14 ESG Frameworks: An Overview and Comparison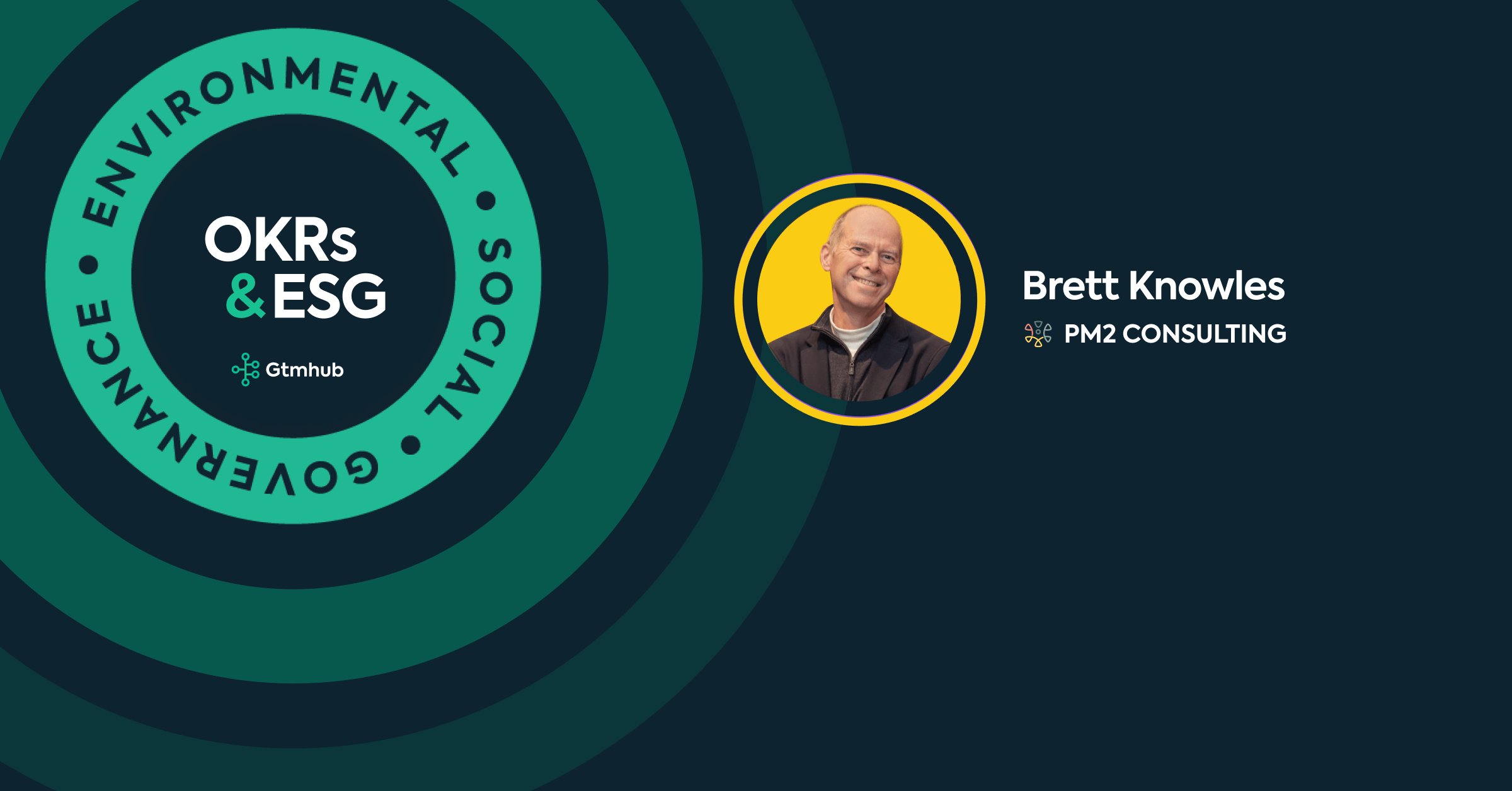 This is the first blog post from our blog series, written in collaboration with PM2 Consulting's executive partner - Brett Knowles, which covers the application of OKRs to ESG initiatives.
When you're ready to integrate sustainability into your organization's performance management framework (e.g., OKRs), you'll find no shortage of existing frameworks. Yet, while popular frameworks such as the ESG framework and the UN's Sustainable Development Goals are capable of their intended use, their scope spans beyond monitoring and managing business activities. As such, you need a more targeted approach to ESG frameworks.
This is the first of four blog posts created to help you identify the best OKRs for your ESG framework. In this blog post, we'll explore the available ESG frameworks in the context of OKRs. The next three blog posts in the series will, respectively:
Guide you in identifying organizational sustainability Objectives using the Future-Fit Business Benchmark for ESG
Help you select sustainability Key Results for your organization
Provide ideas on how you can manage your organization while using sustainability-related OKRs
What is an ESG Framework, and Why Should You Use One?
The ESG framework stands for Environmental, Social, and Governance. It's a holistic idea that focuses on an organization's ability to create and sustain long-term value in a rapidly changing world. More specifically, ESG reporting standards dictate how an organization should handle risks and opportunities while being mindful of their impact across the three dimensions (i.e., environment, social, and governance).

ESG reporting frameworks are becoming more widespread, with organizations worldwide increasingly disclosing ESG information in their annual or standalone sustainability reports. As such, businesses that don't use some ESG reporting framework risk losing out on business — especially as investors are increasingly accounting for ESG reporting standards when seeking to invest in a company.

Insofar, there is no classification standard for ESG factors, with ESG characteristics being defined differently according to specific industries, company characteristics, and business models. Additionally, these factors are often interlinked, making it a challenge to classify these as solely environmental, social, or governance issues.
What Should an ESG Framework Include?
While there are many types of ESG reporting available, there are many overlaps in terms of what they should cover — particularly when it comes to their environmental, social, and governmental factors.
Environmental factors address an organization's environmental impact and stewardship. Typical categories include:
Climate change

Land use and ecological sensitivity

Air and water pollution

Biodiversity

Deforestation

Energy efficiency

Water management

Energy efficiency

Water management

Fresh water availability
Social factors refer to how an organization manages relationships and creates stakeholder value. They focus on an organization's impact on its employees, customers, and the wider community. Typical categories cover:
Customer satisfaction

Data protection and privacy

Diversity and inclusion

Employee engagement

Health and Safety

Community engagement

Human rights

Wealth creation and employment
Governance factors refer to an organization's leadership and management philosophy, practices, policies, internal controls, and shareholder rights. It zeroes in on an organization's leadership and general structure. Standard governance categories are:
Governing purpose

Quality of governing body

Stakeholder engagement

Ethical behavior

Risk and opportunity oversight

Bribery and corruption

Executive compensation

Lobbying
A Look at Current ESG Reporting Frameworks
Over the last ten years of helping our Global clients implement sustainability programs, we've observed that the most common sustainability/ESG frameworks cater to one of three stakeholder communities: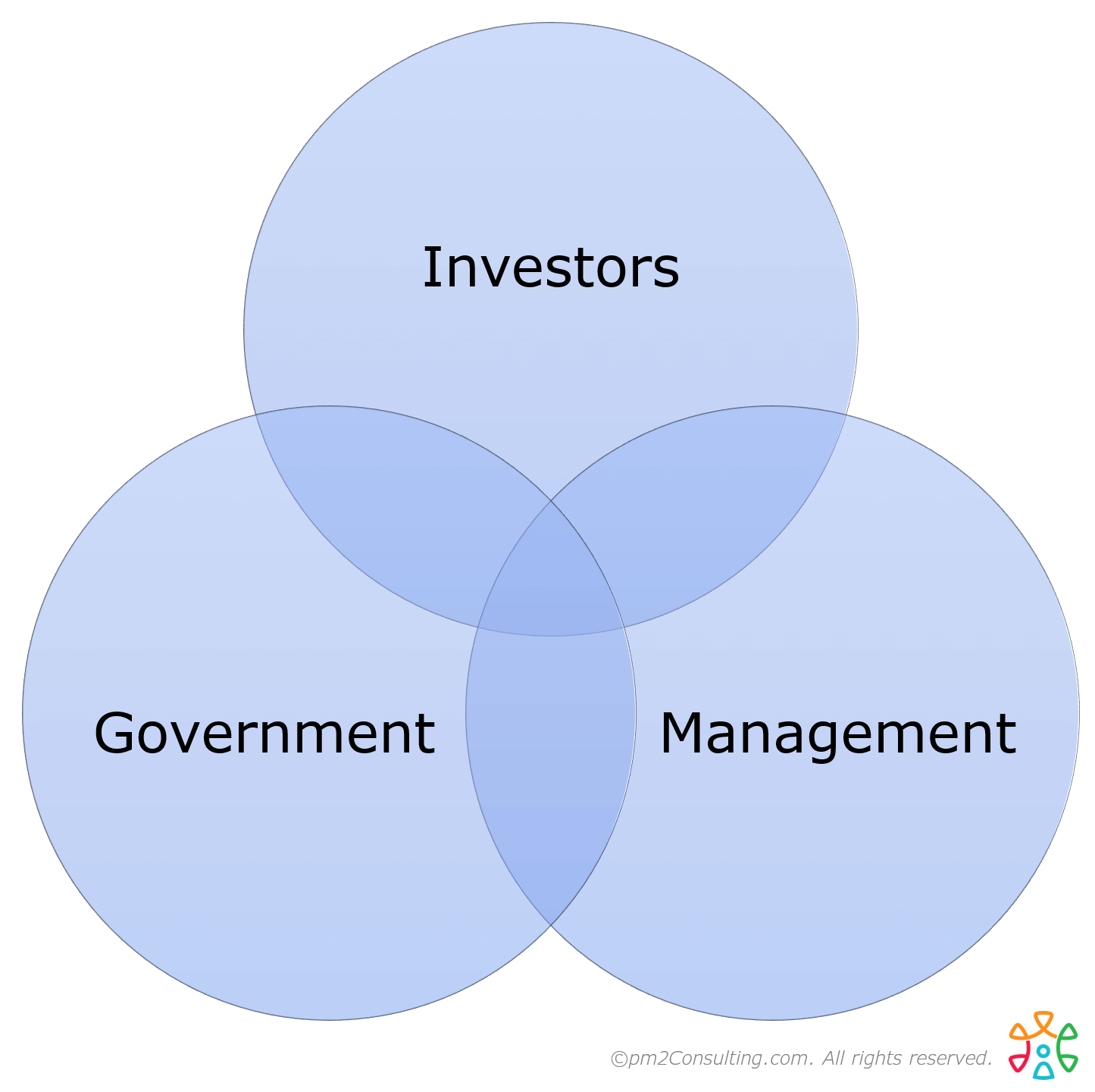 Investors: These ESG frameworks focus on helping investors make wise decisions regarding a potential investment's sustainability-related performance. In addition, they tend to focus on financially visible activities.
Government: These ESG reporting frameworks, such as the United Nation's Sustainable Development Goals (UN-SDGs), serve as guidelines for national and regional governments, helping them provide sustainability-related services and support to their constituents.
Management: These ESG frameworks target operating organizations, translating sustainability-related concepts into tangible activities and outcomes that organizations can influence or impact.
It is important to note that each of these types of ESG reporting frameworks is designed to meet the needs of their intended audience. This makes them weak at addressing the needs of the other groups. For example, governments cannot effectively use the ESG reporting frameworks designed for investors. Likewise, the ESG frameworks designed for governments cannot be used by management.
A Quick Survey on the Top 14 ESG Reporting Frameworks
Our research indicates that 80% of reporting organizations use one of the ESG frameworks listed below:
What is it?
Why use it?

The Climate Disclosure Standards Board (CDSB) is a non-profit organization that focuses on water, forests, and climate change. It aims to provide material information to investors and financial markets. It achieves this by integrating climate change-related information into mainstream financial reporting and enabling reporting on environmental emissions to provide structure for data collection.

The Climate Disclosure Standards Board (CDSB) has now consolidated into the IFRS Foundation. This framework is helpful as it's consistent with modern accounting regulations and expectations.

https://www.cdsb.net/

The largest single repository of company-wide greenhouse gas (GHG) emissions; used as source information for most ESG-related surveys and analyst reports.

Helps you cultivate a disciplined approach to data collection; performance management around GHG emissions; and transparency around corporate GHG emissions, water resources, and forestry protection. Additionally, CDP's disclosure organizes companies' data into easily comparable formats compared to other ESG frameworks. It also pegs it and feeds it into portals like the Bloomberg ESG Indices.

The Dow Jones Sustainability Indices (DJSI) are a family of best-in-class benchmarks for investors who recognize that sustainability is critical to generating long-term shareholder value and wish to reflect their sustainability convictions in their investment portfolios. The family was launched in 1999 as the first global sustainability benchmark to track the stock performance of the world's leading companies in terms of ESG criteria.

These indices serve as benchmarks for investors who integrate sustainability considerations into their portfolios, providing an effective engagement platform for investors who wish to encourage companies to improve their corporate sustainability practices. https://www.spglobal.com/spdji/en/indices/esg/dow-jones-sustainability-world-index/#overview

Systems science tells us how our economy must be transformed if we are to meet everyone's needs and live harmoniously with nature. The FFBB translates this science into principles, goals, indicators, and guides to help businesses play their part in getting us there.

The FFBB consolidates the best practices established by science alongside the principles set out in multiple frameworks outlined on this list. It translates these into actionable steps businesses can take to execute and measure their impact. www.futurefitbusiness.org

GRESB provides validated ESG performance data and peer benchmarks for investors and managers to improve business intelligence, industry engagement, and decision-making.

Real estate funds, REITs, property companies, real estate developers, infrastructure fund managers, and asset operators use GRESB to assess their ESG performance. This is done in a standardized and globally recognized framework so both investors and managers can act on ESG data and insights. https://gresb.com/nl-en/

The Global Reporting Initiative is the most widely used reporting framework, with 73% of the world's largest 250 companies using GRI.

Depending on the drivers they're reporting, businesses can use GRI to communicate their impact on the economy, environment, society, and stakeholders. Disclosure topics are comprehensive and reflect findings from stakeholder engagement and materiality assessments. https://www.globalreporting.org/

International Organization for Standards (ISO) provides companies with global standards across hundreds of sectors covering all things ESG.

Consistent with many existing corporate certifications.

International Sustainability Board (ISSB) provides a global baseline for sustainability standards catered to investors and capital market participants.

Aimed at financial markets and publicly accountable companies. https://www.iasplus.com/en/resources/ifrsf/issb

Standards that enable businesses to identify, manage, and communicate financial and sustainability-related information to their investors.

To report on financial matters for your specific industry. While it's more US-focused, SASB is still relevant for other regions. It's more granular in scope than other ESG frameworks and is increasingly popular due to industry-specific modularity.

The Science Based Targets initiative (SBTi) mobilizes companies to set science-based targets and boost their competitive advantage when transitioning to a low-carbon economy.

This initiative collaborates with CDP, WRI, WWF, and the UN Global Compact. Setting a science-based target is the best way for companies to ensure that their goals align with the latest scientific suggestions on fighting climate change.

The UN Sustainable Development Goals (UN SDGs) is a business strategy framework consisting of 17 goals for 2030. It addresses global challenges such as poverty, inequality, climate, economic prosperity, anti-corruption, labor, and human rights.

Though the UN SDGs aren't an ESG reporting framework, they guide companies looking to align their business strategies with global challenges. They generally compliment many frameworks, with GRI offering direct linkages.

The Task Force on Climate-related Financial Disclosures are recommendations for more effective climate-related disclosures. They promote more informed investment, credit, and insurance underwriting decisions. As a result, they enable stakeholders to understand the concentrations of carbon-related assets in the financial sector while providing insight into the financial system's exposure to climate-related risks.

To disclose climate-related financial risks and opportunities. Relevant for all industries and increasingly common for climate-related disclosures that align with national policies (e.g., decarbonization goals set by China, South Korea, Japan, and Hong Kong).

Sustainalytics measures a company's exposure to industry-specific ESG-related risks and generates a rating.

Aimed at corporate investors. Reporting covers 20 material ESG risks relating to 138 industries.

Seeks to improve how companies measure and demonstrate their contribution to a prosperous society and a sustainable relationship with our planet.

The metrics are deliberately based on existing standards, with the near-term objectives of accelerating convergence among the leading private standard-setters and bringing greater comparability and consistency to the reporting SG disclosures. https://www.weforum.org/stakeholdercapitalism
When plotting the different types of ESG reporting on our previous Venn diagram, we see: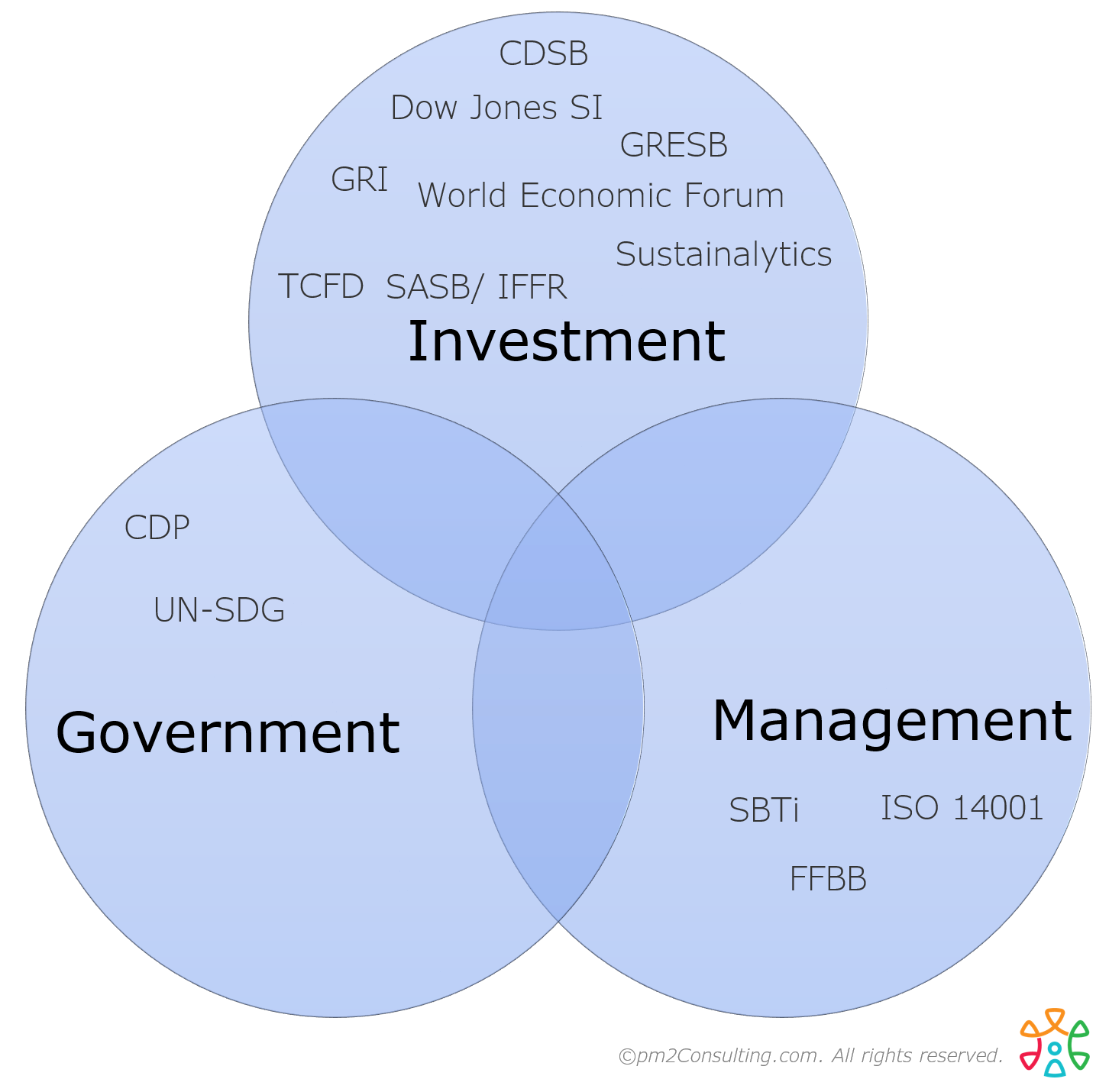 You can see that most of the ESG/sustainability frameworks target investor needs. Moreover, the most well-known and popular framework (i.e., UN-SDGs) targets governments. Finally, there are three frameworks to choose from for those operating in businesses and organizations — two of which are certification-related, not operational.
How These ESG Reporting Frameworks Fall Short of OKRs
A 2020 study of US equity funds found that while "growth has been largely driven by investment interests in sustainable investment rather than performance," unfortunately, "ESG funds are not necessarily more ESG-aware than conventional funds."
Hargreaves Lansdown was criticized for stating that tobacco and mining are the third and fourth highest rated companies in the FTSE 100 (based on Refinitiv data). Former BlackRock Chief Investment Officer, Tariq Fancy, summarized ESG by saying: "In truth, sustainable investing is little more than marketing hype, PR spin, and disingenuous promises from the investment community."
Moreover, of the 169 UN-SDG targets, only 60% can be influenced by non-governmental organizations, while non-governmental organizations can only impact 20%. Yet, goals for society are pretty meaningless as organizational targets or measures.
Choosing the Right ESG Framework for Your Organization
In our next blog post, we will provide you with the criteria and methodology for finding the right ESG reporting framework and Objectives for your organization.
Additional Resources