You're sitting at your desk, in front of your computer and thinking of the million things you must do today. You have at least 15 opened tabs in your browser, 10 other open tools, and several chat threads you are following. The busy bee you are, you are trying to figure out where to start and how to best prioritize your tasks… And then your remote co-worker messages you to ask a question about your most critical Key Result for the quarter. How much time will you now spend accessing your OKR software and extracting this information?
Wouldn't you love it if you could immediately access the data on your KR and discuss it right there and then? Yes, we get that. That's why we decided to make your life easier and introduce the full-on integration of Gtmhub with Microsoft Teams and Slack. Your OKRs can now be directly managed from the two most popular collaboration platforms out there.
Teams all over the world do some of their most important work on chat-based communication tools like MS Teams or Slack. Such tools have actually become central in our work lives – 70% of teams will primarily rely on workstream collaboration tools to get work done by 2020 . It's not that surprising in our fast-paced world – why wait 2 days to get an answer over email to your burning question? Isn't it easier to just ping someone and get the job done in no time? Projects and tasks can move way faster, if facilitated over a chat thread.
This speaks to the need to bring OKRs into daily conversations and ensure higher velocity, lower friction and flexibility in collaboration. Team productivity can be significantly boosted by reducing the necessary steps to update OKR progress. Instead of switching out of the collaboration tool, logging in to another tool, navigating to your OKR, copying the data, etc., you can simply perform these key tasks without ever exiting your collaborative chat. By supporting Agile Movement execution, Gtmhub enables teams to save time, solve problems faster and instantaneously align on their goals, tasks and results in real-time.
Even more importantly, these integrations allow distributed, remote-first and remote-friendly teams to connect regularly and with little to no effort. Basically, messaging tools are where the magic happens. These platforms have transformed into "virtual offices", where employees, especially those working in different time zones, can talk both one-on-one and in groups. In this Era of Conversation, MS Teams and Slack have become some of the most important 'spaces' for daily activities.
Microsoft Teams
Microsoft Teams is one of the most popular communication tools on the market right now, with more than 13 million daily active users in 2019 . And now we facilitate the simplification of most teams' interactions by delivering this long-awaited integration with MS Teams. Gtmhub provides these main points of interactions with OKRs from within MS Teams:
1) Searching and sharing – you can search and share OKRs directly in the chat window.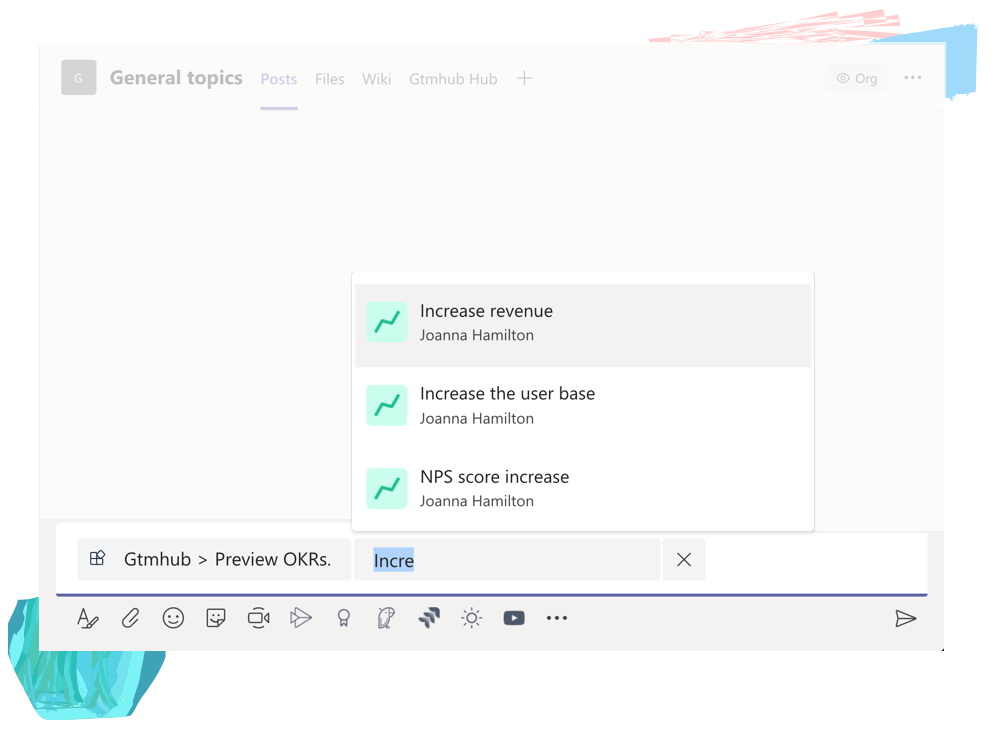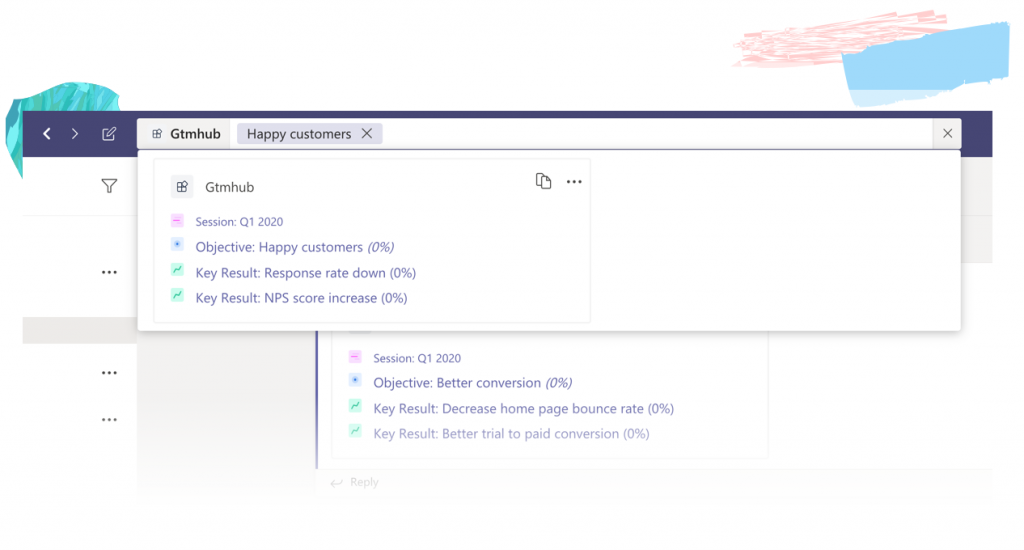 2) Update in-context – you have the ability to update right there and then in the thread.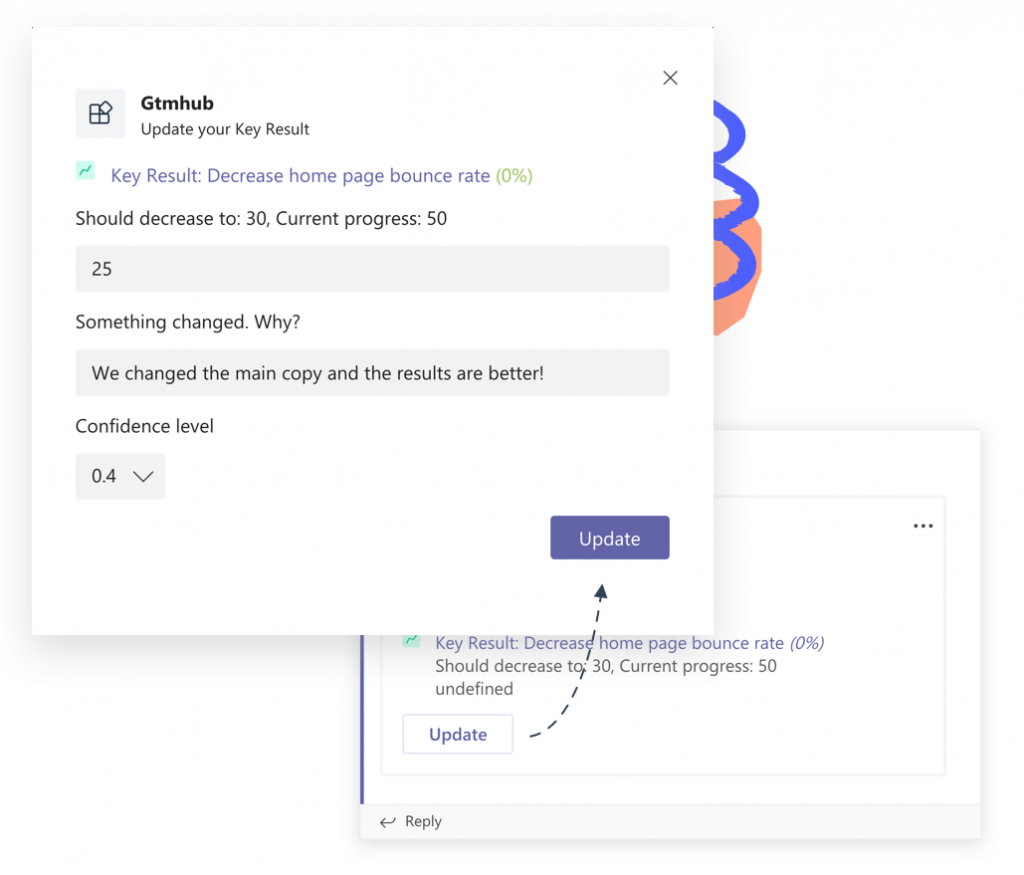 3) The Hub – you can now access one of Gtmhub's most liked features, the Hub, directly in the channel as a Tab.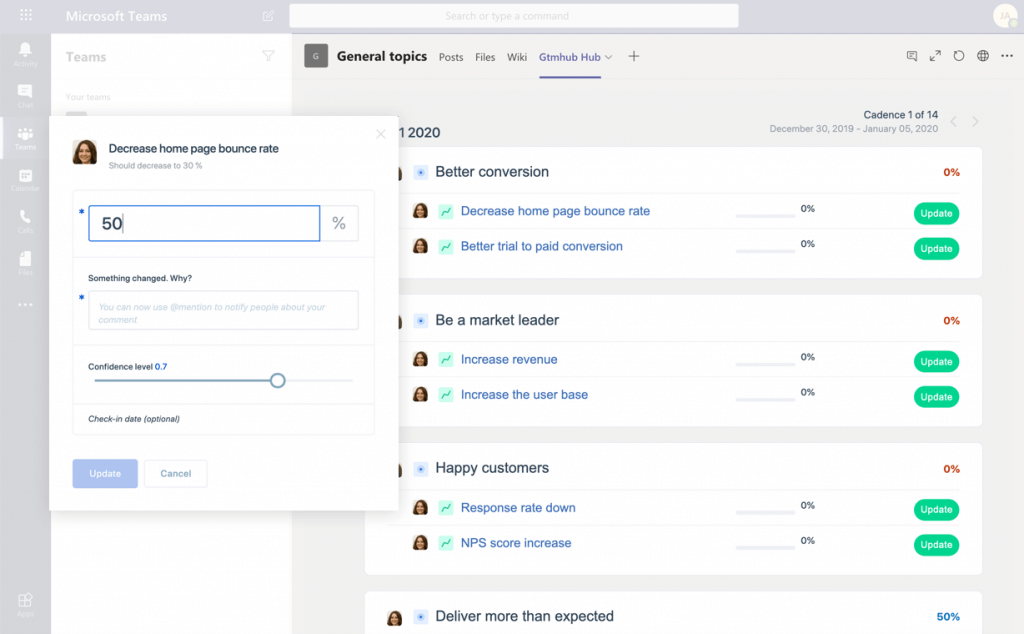 To learn how to set up and use the seamless MS Teams integration, take a look at our online knowledge base .
Slack
Slack is probably the most beloved and well-known collaboration software out there , especially among tech organizations. Of course, we bring OKRs to where people are spending most of their time.
The Slack integration ensures easy collaboration and alignment in specific private channels (user-manager, individual teams, etc.), as well as rapid updates of Key Results and time savings. Your team can now take transparency to the next level, speedily focus on what matters and engage by giving consistent feedback over a chat thread.
For more information on this valuable Slack integration, refer to
our online knowledge base .
What's coming next?
Our near-term plans will ensure that you and your team get an even larger productivity boost. Two key features will be launched shortly as part of our ambitious 2020 roadmap:
Teams will soon be able to not only view, share and update OKRs directly in the messaging platforms, but also create Key Results or Tasks inside MS Teams or Slack. This will undoubtedly save time, speed processes and further accelerate team cooperation.
Insights and Reports will be accessible within MS Teams. Executive teams and individuals will be able to base their assessment on real-time data and conveniently make informed decisions.
Stay tuned for updates and make sure to get the latest on Gtmhub by following us on LinkedIn or Twitter !
Looking to get started with OKRs? Try Gtmhub FREE for 7 days!