The power of progress
Why is measuring progress so important? Well, having a goal is not enough by itself. Keeping tabs on your and your team's advancement towards that goal is what makes all the difference. It paints a realistic picture of the situation at hand. Indeed, frequently tracking goal progress increases chances of success . Without awareness of how exactly you're performing, you have no way of knowing whether the actions you're taking actually help you reach your end point. True story!
And progress, even incremental, increases overall motivation and happiness at work . How can you and your team possibly stay motivated, if you don't see whether your efforts are translating into results? Sadly, you cannot just use your sixth sense or memory to spot where you are successful and where you could improve. Hunches don't work. What works is regular monitoring of progress.
Progress & OKRs
OKRs is a great methodology that lets you focus on achieving the desired outcomes in your organization. But let's be honest, it's not always as simple as it sounds. Setting your OKRs at the beginning of each quarter and forgetting about them up until it's time for your quarterly review is nothing but a bad practice. Simply updating progress at the end of the three-month period doesn't work miracles. You will have no clue whether you or your colleagues are on the right path to attaining goals. Want to utilize OKRs in their intended manner? Weekly progress updates are the answer to your prayers!
Imagine you and your team are nowhere near hitting a business goal and you only start to realize that just as the deadline is knocking on the door. If only you'd known earlier – you'd probably have had the time to fix it. That's why it's essential to avoid treating your OKRs as a one-time exercise! The trick is to realize that it's all about what you do each week to hit your OKRs. Activity is the magic pill. The best solution to your needs Mother of All Dragons!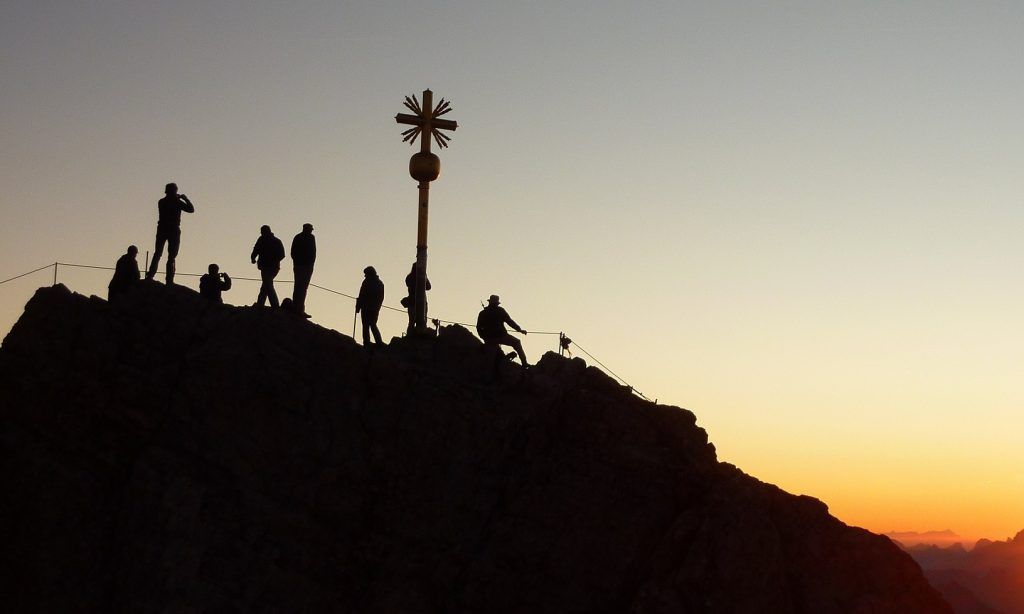 Visualize that progress
What happens when everyone at your company gets regular OKRs check-ins done? You finally truly see what on Earth is going on. You gain an actual visual representation of the organization's goal attainment. In the Gtmhub world that means progress bars and percentage completion to manifest movement and momentum.
We cannot stress enough the importance of regular OKRs updates. Rather than simply talk the talk, we're walking the walk. We've introduced Delta Values – % difference in progress from the end of the previous cadence to your current value. Again, we want to make your life easier!
Delta Values
The new feature will allow you to see how goal progress changes. This presents a few benefits you shouldn't wait to reap:
1. Celebrate the small wins
Any accomplishment, no matter how small, gives you a sense of pride and achievement. This, in turn, catalyzes motivation and ultimately, increases your success rate ( you're way more likely to complete that task ). Yes, there's a light at the end of the tunnel.
Seeing chunks of progress in organizational OKRs attainment lifts your team spirits and inspires you to keep going. And why don't you celebrate these small wins with a badge in our platform ?
2. Don't miss lagging OKRs
You can now instantly see if an OKR needs attention and escalate the issue. Increasing focus on borderline Objectives helps you salvage the situation before it's too late. You can also opt to abandon what clearly is not going to happen and change focus. Our Delta values will help you see what's going to be completed on time, so you concentrate on the OKRs that are falling behind.
This gives you more control over the goal achievement process at your company. And who doesn't like being in control of any situation?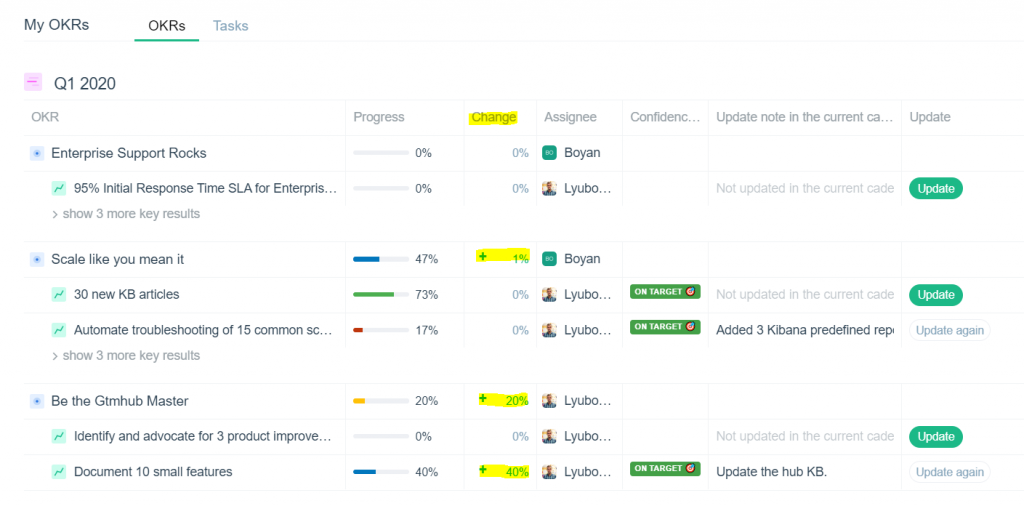 3. Keep co lleagues informed
Updating your progress every week will keep your teammates in the loop, giving them the opportunity to adjust to what's happening. At the same time, this makes you more accountable and disciplined. Symbiosis at its finest.
The % change in OKR completion status will increase transparency across the organization and determine the direction teams should work toward.
4. Oversee overall OKR health
Delta values actually serve as a clear indicator for overall OKR health. If your OKR is at 35% mid-Q and you haven't made any progress in the past 3 weeks, it probably means you're not sticking with your goal or you hit a blocker. But if you've made 20% progress from that last measurement, that's awesome. Keep it up.
Delta values inform and guide you, while reducing uncertainty. They also humanize the goal achievement process, making it more open, honest and joy-triggering.
You can find our Delta Values in the Home screen. For more information about Delta values, visit our online knowledge base .
What's next?
In Q2 2020 we will revamp our Hub to make your OKRs process even more effective. You will have the necessary insights to take full charge of yours and your team's progress as you will easily get the answers to questions like:
How are we doing?
What do I need to know?
What do I need to do?
See more details about our Q2 2020 roadmap and brace yourself for 47 new significant feature releases!