Now you can use Gtmhub's Approval Workflow feature to be sure that your key stakeholders and participants are actively engaged with your OKR initiative – and to identify and fix misalignments or confusions before the start of each OKR period.
Objectives and Key Results (OKRs) aren't some form of magic. Alas, you can't just hire a magician consultant who waves a wand runs a workshop and expect that you'll suddenly reap wondrous benefits. OKRs as a tool are only as good as their inputs. Participation by individual employees and engagement by corporate managers are critical components of OKR success.
Of course, you already know that OKRs can be a powerful tool for increasing employee focus, creating vertical and horizontal organizational alignment and improving your company's ability to monitor progress towards key goal achievement. Unfortunately, too often, we see companies with some (or all) of the following challenges:
Individual employees need help crafting OKRs. They're unsure who to approach – or uncomfortable asking for help.
Employees wonder if they've drafted their OKRs to meet management and/or executive expectations.
Managers and executives discover that some OKRs are not serving to advance company goals.
Managers and executive are disappointed to find that some KRs are not quantified or written in a fashion that can be readily measured.
The OKR champion spends (hours of) time determining if all OKRs have been completed and are 'good to go.'
Needless to say, these are sub-optimal scenarios and can even compromise an entire OKR effort, eroding the power of OKRs to effect positive change.
Now, you can use Gtmhub's newly released Approval Workflow feature to manage the OKR process and solve these problems.
How Does It Work?
Each OKR that is created, when subject to Approval Workflow, exists in 1 of 3 states:
Draft : The OKR is still a work in progress. Once the author of the OKR is satisfied that it is ready for review and approval, she determines who should review and sends it for approval.
Moving the OKR from Draft state, determining reviewers, and requesting approval is the matter of just a few keystrokes. All this activity takes place within the Hub, so it's a simple and intuitive extension of the OKR creation process – in keeping with Gtmhub's focus on OKR ease and efficiency.
In Review : The OKR has been sent to designated approvers and is now awaiting final review and approval. Once an OKR enters the In Review state, it is locked and the author can no longer make any changes. At this point the designated reviewers are responsible for evaluating and approving or declining the OKR.
Approved : At this point the OKR has been approved by all designated reviewers and is now ready for action.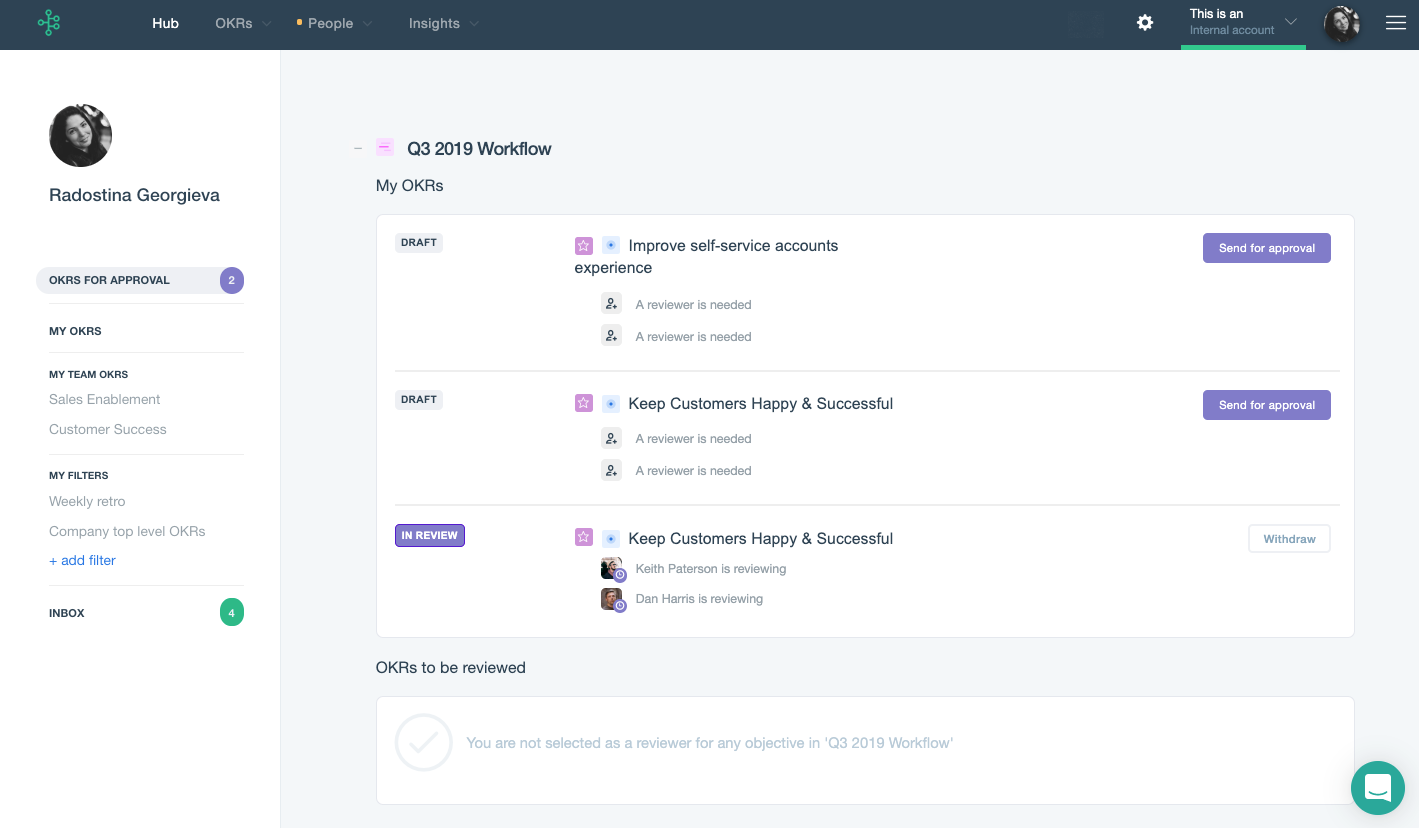 Note that once an OKR has been moved out of the Draft state (In Review or Approved) it is 'locked.' If the author of the OKR determines that changes are needed, she will have to pro-actively withdraw the OKR and initiate a process of draft and approval for a new OKR.
Metrics Matter
Of course, Gtmhub enables you to leverage the power of your existing data gathering tools to create dynamic and measurable OKRs. Our own features like Approval Workflow follow those same principles.
Approval Workflow enables review of the status of an OKR in real-time. It's also quite simple to see who is responsible for shifting an OKR from Draft to In-Review, as well as is tasked with reviewing each OKR.
Additionally, Approval Workflow includes a specific Insights dashboard that allows mangers, executives and OKR champions to evaluate the actual conduit of approvals and alignment, as well as delineating the average speed for OKR approval within your organization. Enhancing and motivating transparency and collaboration among team members is at the core of the Approval Workflow.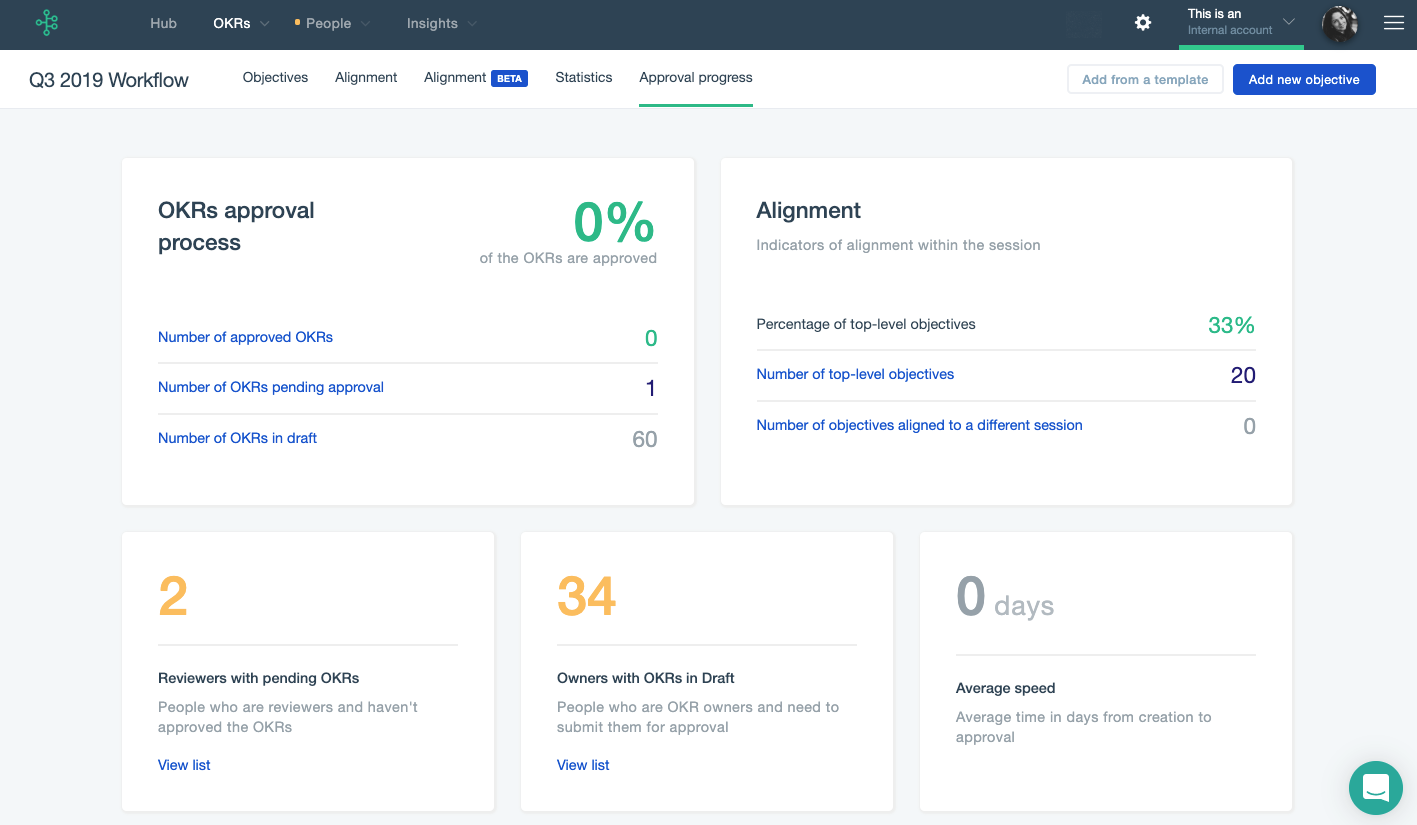 Approval Workflow is just one of the many ways that Gtmhub helps you take advantage of the power of OKRs. By further improving participation, engagement and confidence, we enable you to increase focus, improve transparency and alignment and accelerate growth.
Looking to get started with OKRs? Try Gtmhub FREE for 7 days!