Forgetting is not an option
In this day and age, we need reminders for just about anything. Doesn't matter if you're just busy as a bee or a little forgetful, you need reminders because you cannot remember everything. So, setting reminders does make sense. Whether it's a grocery shopping list on a piece of paper or the ping of an app, you can rely on reminders to free up mental space for other tasks, urge you to get things done on time and even help you create a healthy habit.
But you need a reliable way of reminding yourself to do something. With technology permeating every aspect of our lives, reminders, alerts and notifications are now an indispensable part of our social and personal spaces. Outsourcing your memory to other devices is today's go-to 'weapon' for handling life – whether it's a chat message, phone call, SMS, email, or app push notifications.
Chat notifications – the jewel in digital reminders' crown
Automated reminders in our favorite collaboration platforms are now an essential workplace perk – they have become a key factor in keeping a smooth workflow between individuals and teams, as well as boosting productivity. As teams do some of their most important work in chat-based communication tools like MS Teams or Slack, chat threads are the best place for people to be reminded of something that needs to be executed.
The beauty of automated chat reminders lies in the fact that there's literally no way to miss them. You are always there, discussing work-related matters with colleagues. Especially when there's a lot to do, many ways to track all of it and your workspace looks like a victim of the post-it note apocalypse – that's when automated chat reminders are all you need.
What about reminders concerning your OKRs?
We believe that in-app or email reminders are not as effective as alerts and notifications in the most used tool at work – the communication platform. So, we decided to enable you not only to update your OKRs progress in your favorite collaboration tools , but also to receive notifications when a Key Result or Task in Gtmhub needs to be updated.
Microsoft Teams and Slack are the most popular collaboration tools out there. As we are committed to improving your OKRs experience, we couldn't help but enhance Gtmhub's integration with the two most loved chat-based platforms on the market.
OKRs & Tasks notifications in Microsoft Teams and Slack
You will now be able to get automated reminders about your due dates, so that you're able to update the status of your OKRs and Tasks without ever leaving the chat thread. How does this sound? It definitely sounds great to us.
From now on, you will never miss an important deadline for your KR or Task update. You will be able to update your goal progress with just a few simple clicks, while chatting with your teammates. So, don't worry – you can just focus on making the necessary progress towards desired outcomes.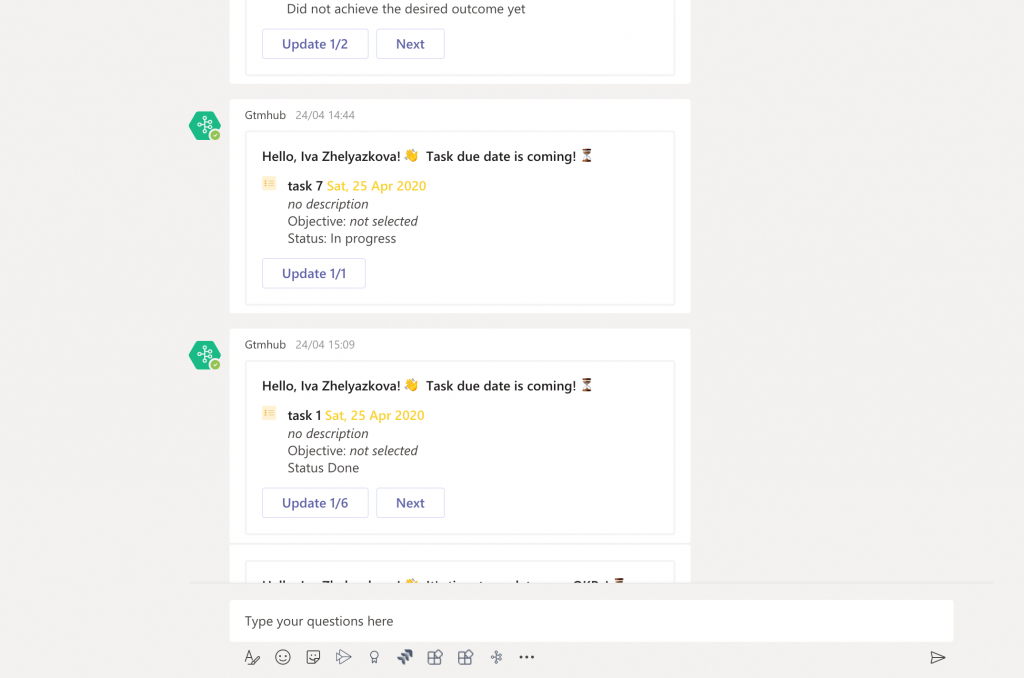 MS Teams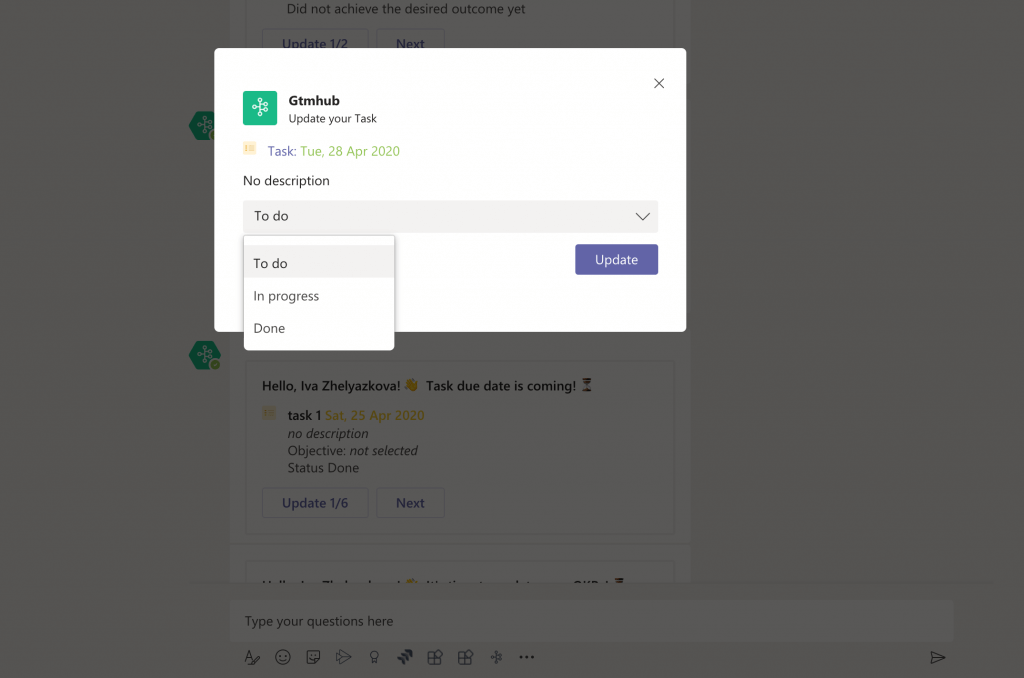 The MS Teams and Slack notification do not require any special setup in Gtmhub. The owners of tasks in Gtmhub will be notified when a task is due, whereas KRs notifications will be triggered on each cadence (in most cases this will happen on Mondays).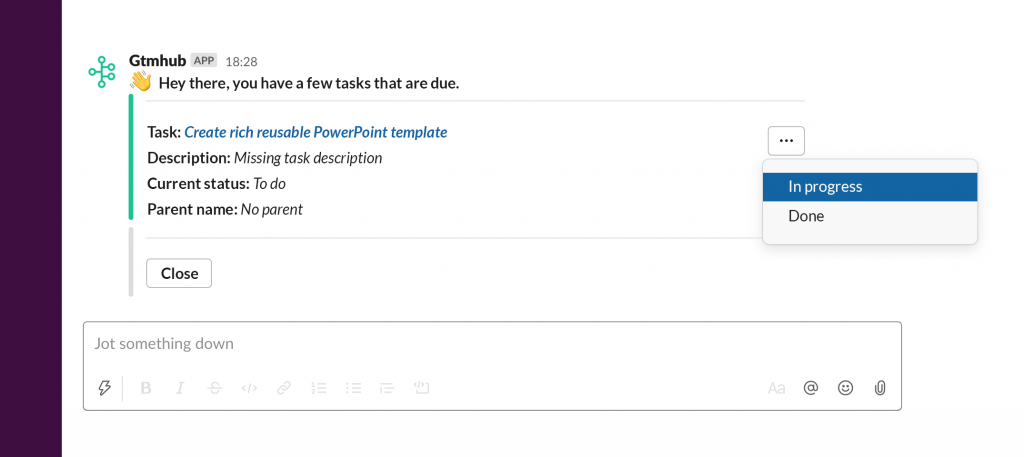 Slack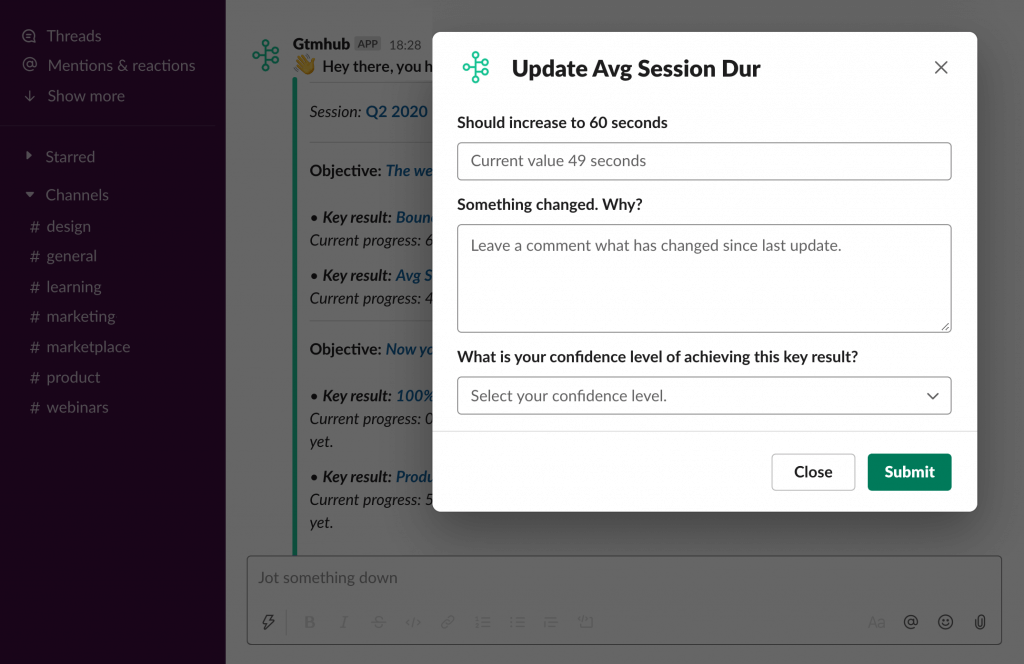 See how to turn on OKRs and Tasks notifications in Microsoft Teams and Slack .
How is this useful?
1. No way to miss it
Many of us ignore system emails. Or see an email when it's too late. Since people are mostly in MS Teams or Slack during the day, there's literally no way to fail to notice or forget about an in-chat alert. It's critical for Gtmhub users to be reminded that KR or Task progress needs an update – it allows for a good forewarning, so you can be fully prepared.
2. Leads to a productive habit
Anything you do long enough becomes an automatic behavior – a habit. Building productive habits is a matter of repeating behavior and reminding yourself to do that. And, trust us, you need the habit of updating your OKRs progress! You shouldn't treat your OKRs as a one-time exercise, if you truly want to achieve what you've set out to do. When you build the habit of updating your OKRs and Tasks progress on a regular basis, you will finally have an insight into the health of your goal attainment.
3. Helps to declutter your mind
You no longer have to remember and worry about due dates when it comes to OKRs. And when you offload your thoughts as notifications, you will have more time to focus on what really matters – how to achieve your goals.
We are dedicated to making the OKRs implementation process easier and help you realize your ambitions. So, expect more feature releases and follow us on social media for updates.