Tim Whitmire, a longtime Associated Press journalist and co-founder of the F3 Nation men's workout movement, collaborates with organizations at all growth stages through CXN Advisory , which offers executive coaching, strategic advisory and OKR consulting services. In this Voices of OKR feature, Tim talks about the beauty of in-person business meetings.
I spent the first 15 years of my career as a journalist and I keep my hand in writing through occasional freelance work. Recently, I ghost-wrote an article arguing for the importance of in-person business meetings in an industry where there is currently a robust debate about what the post-COVID landscape will look like for Business Development.
Some in the industry argue that things have forever changed. The firms that will gain competitive advantage in BD going forward will be those that use content marketing and other digital strategies. The client for whom I wrote the article believes (and has data to back up the assertion) that nothing generates real business like in-person meetings. Their BD team is fully vaccinated and lined up at TSA PreCheck, ready to get back on the road as we go back to normal.
The article was easy for me to write because I've seen the same thing in my work as a strategic advisor. When I lead clients through strategic planning and OKR alignment sessions, nothing moves things forward like putting people in a room together with direct eye contact.
There was a YouTube video that really brought this home during months of pandemic Zoom calls. Before I share it, though, you need to know: I'm a 50-year-old Swiftie .
Not in the sense that I can litigate Taylor Swift's battles with Kanye West and Kim Kardashian or that I scrutinize her Instagram feed for Easter eggs about what music she's releasing next. But I'm enough of a nerd about music to have started a podcast with one of my best friends. And when it comes to the music, I'm Team Tay – she's mind-blowingly talented.
When the pandemic lockdowns began in the spring of 2020, Swift set up an in-home recording studio and started collaborating on songs with Aaron Dessner of The National and Jack Antonoff, a leading producer and frontman of Bleachers. Those remote sessions turned into Swift's eighth studio album, "Folklore." Released with almost no buildup on July 24, it became one of the best-selling and most critically acclaimed albums of the year.
By early fall, with COVID testing widely available and restrictions loosening, Swift, Dessner and Antonoff gathered in person at The National's Long Pond studio in upstate New York to play the "Folklore" songs for the first time together. A documentary, "Folklore: The Long Pond Sessions," was released in November on Disney+.
If you're willing to spend 10 minutes, listen to the album version of "August," the eighth track on "Folklore." About a summer love affair, it's one of the strongest songs on the album, with Swift displaying her talent for lyrics and imagery. (She says she'd been wanting to use the line "meet me behind the mall" in a song since she was a teenager.)
Then go online and watch what happens when she gets in the studio at Long Pond with Dessner and Antonoff.
From the moment, just 12 seconds in, when Swift makes eye contact with Antonoff and smiles, their performance is electrically charged. The energy ping-pongs around the room – Swift's hands are everywhere, knotting together in imitation of the lyrics' twisted bedsheets at 34 seconds; Dessner, lost in his guitar, appears to smile to himself in recognition of the building momentum at 1:14; 12 seconds later, Swift adds a seemingly involuntary yelp that wasn't part of the studio version.
The interplay between Swift's vocals and Antonoff on his acoustic guitar between 2:40 and 3:12, as she repeats the final verse ("Remember when I pulled up / And said 'get in the car'"), is like a dance. Dessner comes in with a final solo on the electric guitar and Swift nods along in appreciation at 3:33 before the song ends and she falls back into her seat laughing.
Now, I'll grant you that no OKRs meeting ever or strategic planning session anywhere in the history of the world has ever been so electric that a participant delightedly cried, "I loved that!" when it ended.
But … compare the Long Pond version of "August" to the studio version and you'll understand why leadership teams need to be back in person, gathered together around tables and diagramming on whiteboards to hash through ambitions, hurdles and the objectives we want to set for the things we care most deeply about. It's in these sessions – when dreams are shared, priorities battled over and uncertainties laid on the table – that the magic of true organizational alignment is achieved.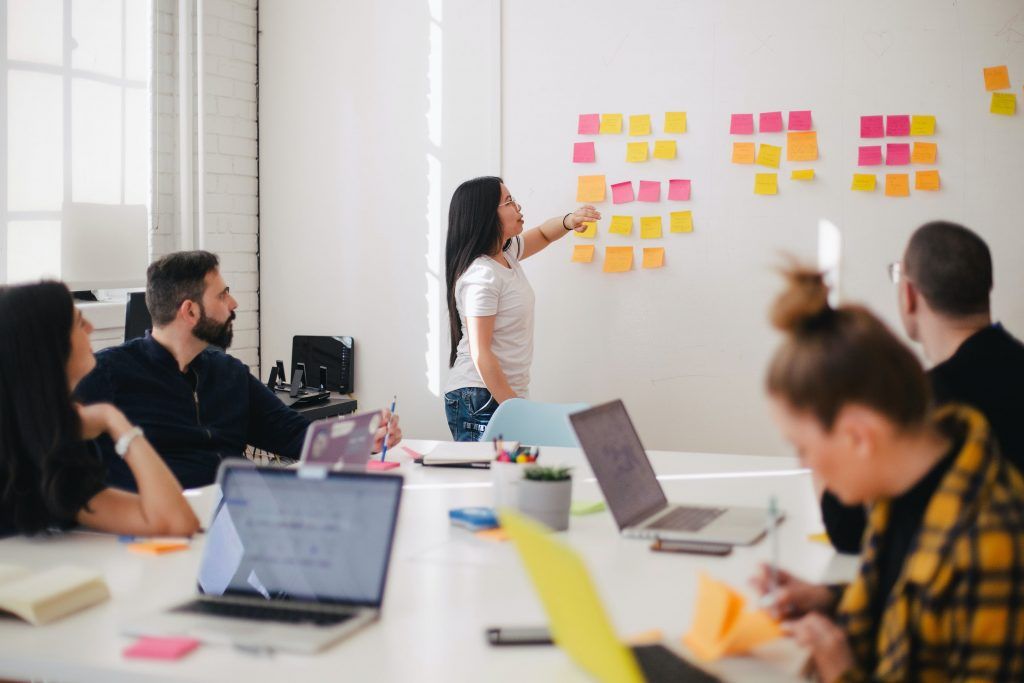 When I guide leadership teams through strategic planning and OKR sessions, I always tell them that there will be some back and forth, that not everyone will get exactly what they want and some feelings might get bruised. That's all part of the process.
But when it's over, the plan is set and the objectives are identified, I want them to lock arms and charge out that meeting room with the same enthusiasm you see in that clip from Swift, Dessner and Antonoff. I hope you'll have a chance to do that together and in person soon.
Looking to get started with OKRs? Try Gtmhub FREE for 7 days!