Contribution is the key
Great teams are like musical ensembles or a colony of bees – there's no room for egos and the collective outcome is the sum of individual contribution. The fact of the matter is that organizations really achieve success when all team members are aligned around a shared vision and go out of their way to contribute.
OKRs help you do that. Objectives and Key Results ensure that every manager and every employee know what's expected of them and what he/she needs to accomplish. And that's absolutely essential – this way it's easier for people to be more proactive, productive and to contribute. Clear purpose and alignment ensure that everyone is pulling in the same direction.
But what else is critical for overall organizational prosperity? People need to see precisely how their efforts and energy translate into results. How their individual contributions move the organization forward.
Custom calculation of Objective progress
There's now a way for teams to see the big picture and know how exactly what they bring on board. Gtmhub now allows users to choose a different way for objective progress calculation – you will be able to measure higher-level objective progress based on all aligned sub-objectives.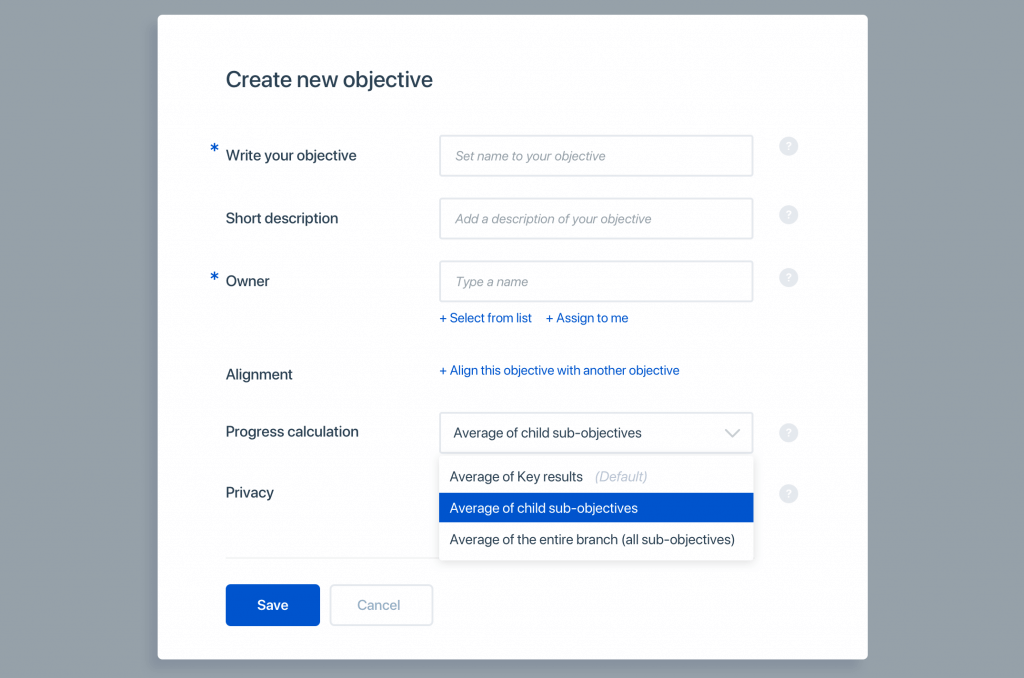 Previously, the progress of an Objective could only be calculated as the average of all Key Results. For most cases, this is the best way to go.
However, some companies need a different logic for goal attainment calculation. For example, an executive may own a top-level company OKR, where Key Results are the Objectives of their business units. In that case, an executive would set the Objective attainment calculation to "Average of child sub-objectives," and all the children OKRs would be linked as KRs to their top-level company OKR.
That's right. Higher-level parent objectives can now have their progress automatically accumulated from lower-level child objectives attainment.
This feature also works across sessions. For example, you can have an annual 2020 OKR (parent objective) that is supported by quarterly OKRs (child sub-objectives). This way, organizations can work towards long-term goals and see how progress rolls up over time.
Well, why is that important?
For starters, you can now track the advancement of your company OKRs more efficiently and transparently. The goal progress is a result of individual and collective contribution, so wouldn't it be great to know which team's efforts and actions were most critical for your achievements? Yes, we know it'd be great.
Upper management will be aware of how each team's efforts fit into the whole puzzle. This, in turn, will result in them making more informed decisions for the future, identifying strategic priorities and choosing the most appropriate course of action.
On the other hand, team leaders and managers will see how their and their teams' progress directly ladders up in the organization as top-level objectives will be calculated based on their efforts. Determining how each employee's contributions impact the business will imminently lead to a more effective goal management process.
Good news for our OKR champions as well! You will no longer have to export your OKRs to Excel and do objective progress calculations yourselves. Now your Gtmhub reports will directly do that for you!
Learn how to configure custom Objective progress calculation here
Looking to get started with OKRs? Try Gtmhub FREE for 7 days!