Gtmhub product team has been busy in May.
The biggest change was actually invisible, as we have moved our entire cloud infrastructure from Docker Cloud to Open Shift. While this was a monumental effort, users would typically not care – but we have increased the performance of the services by almost factor of three . Put shortly – Gtmhub got even faster!
While half of the engineering team was neck deep in the infrastructure work; other half was going through the customer feedback and delivered ten amazing new features.
Announcements
Gtmhub now allows you to publish announcements and automatically notify relevant team members.
In addition to this, Gtmhub is automatically posting important announcements. For example, when a badge is awarded or an important update to an OKR happens.
Announcements also support reactions and emojis.
OKR announcements in Gtmhub
My progress
The default screen of the OKRs module is now "My progress". Larger organizations often have hundreds or even thousands of OKRs in any given quarter. With this new screen, we surface the most important information for every user.
Every user can quickly see his or her objectives, as well as the objectives of their team. To make things even more streamlined, we provide the "urgent" section, which lists only the objectives or key results that need users immediate attention.
My progress & to-do
Employees can now be in multiple teams
Many organizations use virtual or temporary teams. In such cases, one employee is often a member of more than one team. With this new enhancement, the People module in Gtmhub allows for this scenario, so for example, it is possible for an employee to be a manager of a team and at the same time belong to a task force team.
Employees in multiple teams
OKR templates
Introducing OKRs into an organization is often challenging, as many of the employees are not familiar with the methodology. To simplify this, Gtmhub now provides dozens of OKR templates for various functions within a business. These templates allow users to learn OKRs by example and hence simplify the life of the OKR champion.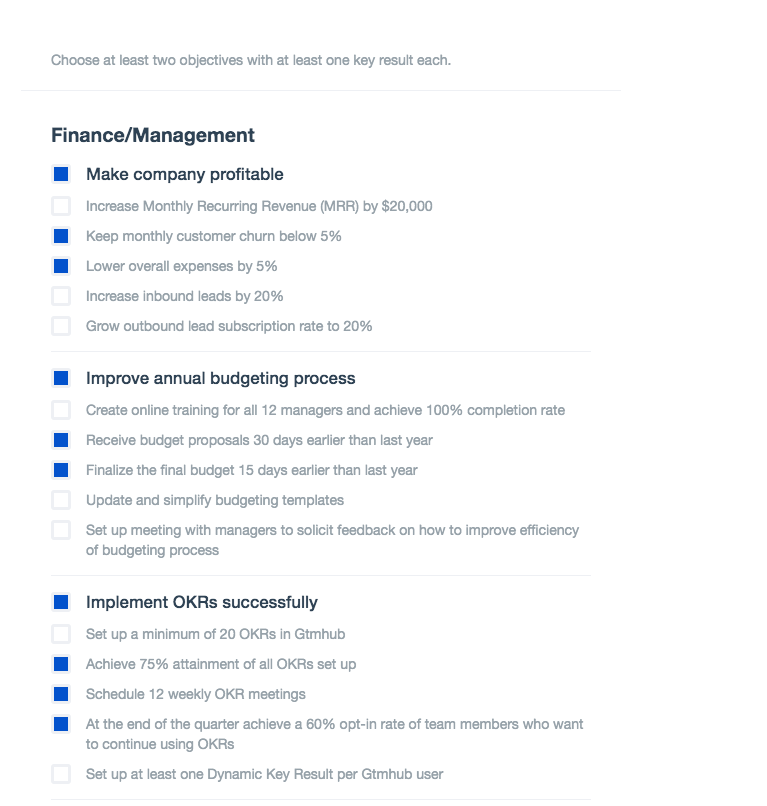 Install OKR templates
New navigation
Gtmhub has recently turned three years and in that time, the product has grown considerably. To simplify the user interface and enforce the most common workflows, we have reworked the main navigation of the product. The drop-down menus are not static, but also provide access to the most common sections, such as current planning session and so on.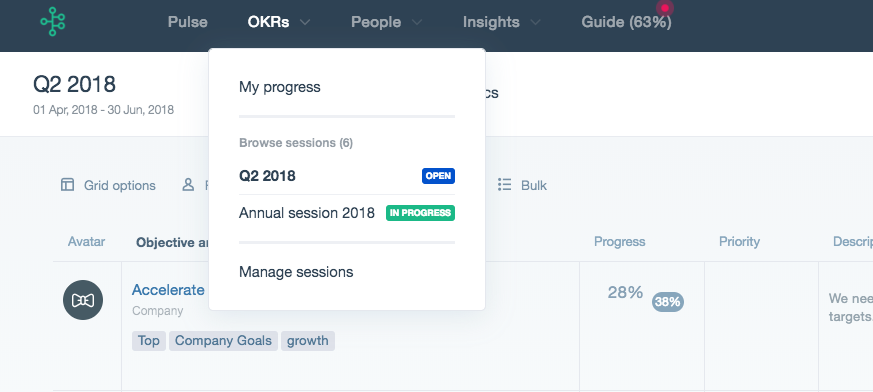 New navigation in Gtmhub
Planning session schedule
One of the powerful features of Gtmhub is its ability to have multiple planning sessions running in parallel. The most common use case for this is having an annual planning session alongside quarterly planning sessions. To help users visualize cadences of various planning sessions, we have introduced a simple Gantt chart of all the open planning sessions.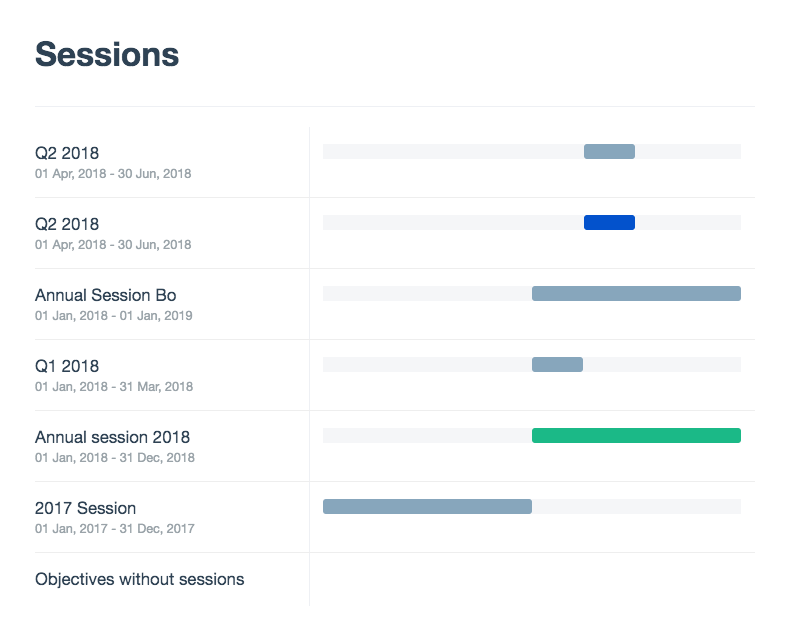 OKR planning sessions schedule
Bulk tagging
OKR tags are a powerful feature of Gtmhub, which allow businesses to organize OKRs in projects and initiatives. Tags can be used to filter OKRs, narrow down the reports or identify OKRs in the alignment tree.
Tags have been one of the most used features of Gtmhub and with this iteration we make them even more powerful. The new Bulk Tag screen allows rapid tagging of multiple OKRs at the same time.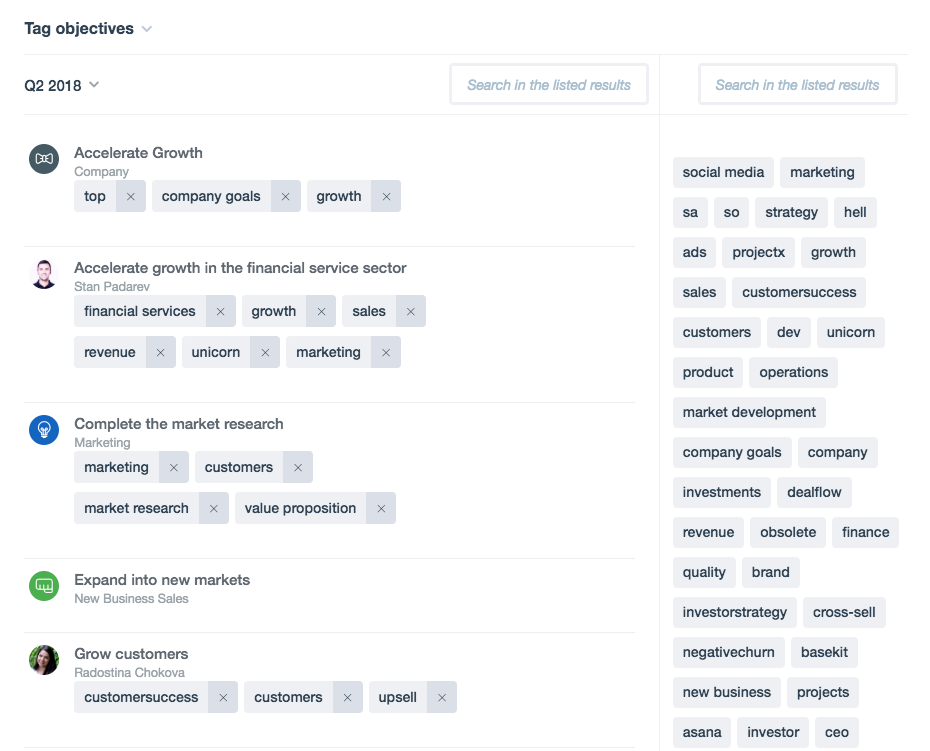 OKRs bulk tagging
Employees grid
The employee screen has been reworked to provide more information at a glance. Now, it is possible to quickly see the teams to which employee belongs to, as well as badges that employee was awarded. The new screen also provides ability to quickly invite more people into Gtmhub, as well as sort and search for colleagues.
Employees grid
Teams grid
Similar to Employees screen, Teams screen went through a face lift. Now it is possible to quickly see all of the members of a team, awarded badges as well as the mission of a team.
OKRs team grid
Sorting OKRs by confidence
Last, but not least, is the ability to sort OKRs by the subjective confidence of OKR owner. Gtmhub supported confidence levels for a long time, but admittedly, until now confidence was not first-class citzien in Gtmhub.
Sorting OKRs by confidence