Ferrari 812 Superfast gets 13 miles per gallon (about 18l/100km).
Macallan 18 is a single malt whiskey aged for 18 years in sherry-seasoned casks sourced from Spain.
50&50 is a blend of Capannelle Sangiovese with Tuscan Merlot – aged about 24 months in barrique and best consumed 20 to 28 years after the bottling.
Wagyu beef will taste much better if dry-aged for 100 or more days, even though it will lose about 20% of its weight during that time.
It took J.R.R. Tolkien 16 years to write the Lord of the Rings trilogy.
None of this is very efficient, yet that does not seem to bother us.
People often say that something – let's say a mattress – is a Ferrari [or Cadilac if you are in the US] of mattresses. I've never heard a salesperson telling me that something is a Toyota Camry of something.
The race to redundancy
I would argue that if your core skill is to do something faster or more efficient, sooner or later, some machine (technology?) will replace you.
It's a race to redundancy.
For example, in ancient Greece, people called Bematists were measuring distances by counting their steps. I would imagine that some of them were pretty efficient after few years of experience. Satellites would eventually win.
But, we don't need to go all the way to ancient Greece. Just look at this video of Amazon's Smart Warehouse. In 1994, Jeff Bezos was walking among the shelves of books, sorted by some pretty efficient people, I am sure. In 2020, it looked more like a scene from Matrix with hundreds of robots swarming around.
More efficient vs. Better
It is often a fallacy to confuse doing something more efficiently with doing it better.
For example, a now long-gone German company called Olympia Werke was producing the best typewriters in the world. The end of Olympia was the computer. Because Olympia was focused on making typing more efficient, rather than finding a better way to write .
And here lies the problem – too often, we are all absorbed in finding a more efficient way, rather than a better one. We tend to think that being efficient is a good thing.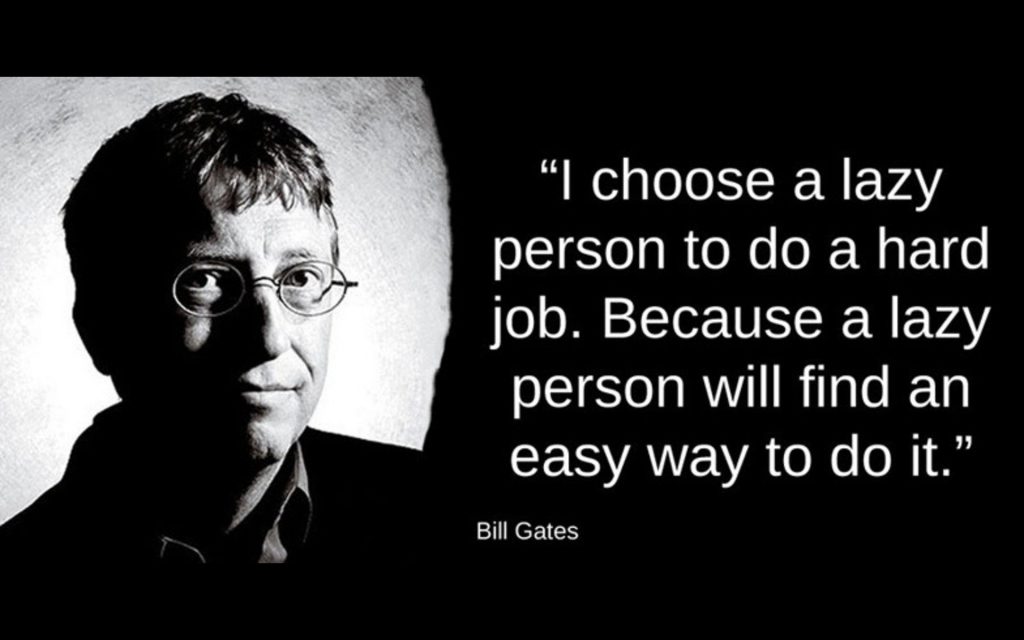 Yet, the tide is changing. We have been forced out of the efficiency race by new robots and automations appearing every day.
So we do something we tend to be good at – we adapt.
The rise of OKRs
Many people ask me – what if OKRs are just a fad? Isn't it only another method in a seemingly endless stream of business practices that come and go.
Maybe.
Agile, Scrum, Kanban, Lean, Waterfall, Six Sigma, The Toyota Way, Just-in-time anything… and those are just the ones that spring immediately to mind. On the surface, OKRs with their awkward name would fit right in that list.
But, there is a big difference. OKRs focus on outcomes – not the output. In other words, OKRs are about being effective – not about being efficient.
If you have a car and a driver's license – the Kanban way of going from Denver to San Francisco is to drive in one-mile increments and check the map to ensure we are taking the most optimal route. The OKRs are about getting on the airplane, having a martini and some peanuts for two hours, or even better, doing a Zoom call instead of going to San Francisco in the first place.
The OKRs are the reaction to the world in which efficiency and productivity have been fully outsourced to technology.
Managing productivity is about "output" – measuring effectiveness is about "outcomes." And, for better or worse, OKRs are the best way we can do this today.
The sacred cow of efficiency
Let us finish with the Ferrari 812 Superfast.
It is a very inefficient way to turn chemical energy into a kinetic one. But, so what? No one ever bought Ferrari to save money (or the Planet, for that matter).
Efficiency is the most arrogant characteristic of them all. It always presupposes that it knows what is to be done – and mandates it to be done faster and cheaper.
The question is not – "how"? The question is – "what?"