New Year, New Beginning. Are you also one of those people determined to make a fresh start at the dawn of a hope-filled new year? Don't worry, most of us are like that. The moment has come – you take time to reflect on the past year and set new priorities that will make you better. These NY resolutions usually involve accomplishing goals, breaking bad habits and creating new positive routines. The most common resolutions are about saving more money, eating healthier, exercising more and learning a new skill. Unsurprisingly, people tend to lean towards personal and professional development, and overall excelling in life.
Unfortunately, we also know that most people forget about these resolutions after the holidays end and the pressure of daily life begins to overwhelm once more. A study even suggested that there's a specific date when resolutions are officially abandoned – January 19, Quitter's day. Before long, you may start to ask yourself "What does it mean to be more active?", "How much more does working more require?" or "When do I start taking this course?". Undoubtedly, these questions surface due to a lack of clear planning on how to keep your resolutions (not to mention all those awesome actions that didn't even make the "New Year, New Me" list). The problem with resolutions is that they are overly idealistic, notoriously flaky and generally can neither be measured, nor updated.
The scientific reason behind our failure to act on our intentions lies in the False Hope Syndrome. It's about the unrealistic expectations of self-change and a lack of solid planning. The failure rate is abysmal – 80% of us fail to fulfil our NY resolutions.
Exactly what are we suggesting?! OKRs of course! And this goes for both your personal and business lives.
Objectives and Key Results (OKRs) can transform your flimsy resolutions into a clear, sound and actionable plan for growth and achievement. For example, the goal Exercise more in 2020 might look like this:
Objective: Exercise more in 2020
Key Result 1: Take private tennis lessons twice a week.
Key Result 2: Jog in the morning every other day.
Key Result 3: Go on at least one long-distance bike trip per month.
Key Result 4: Do 200 pushups a day.
See how it's not just wishful thinking anymore?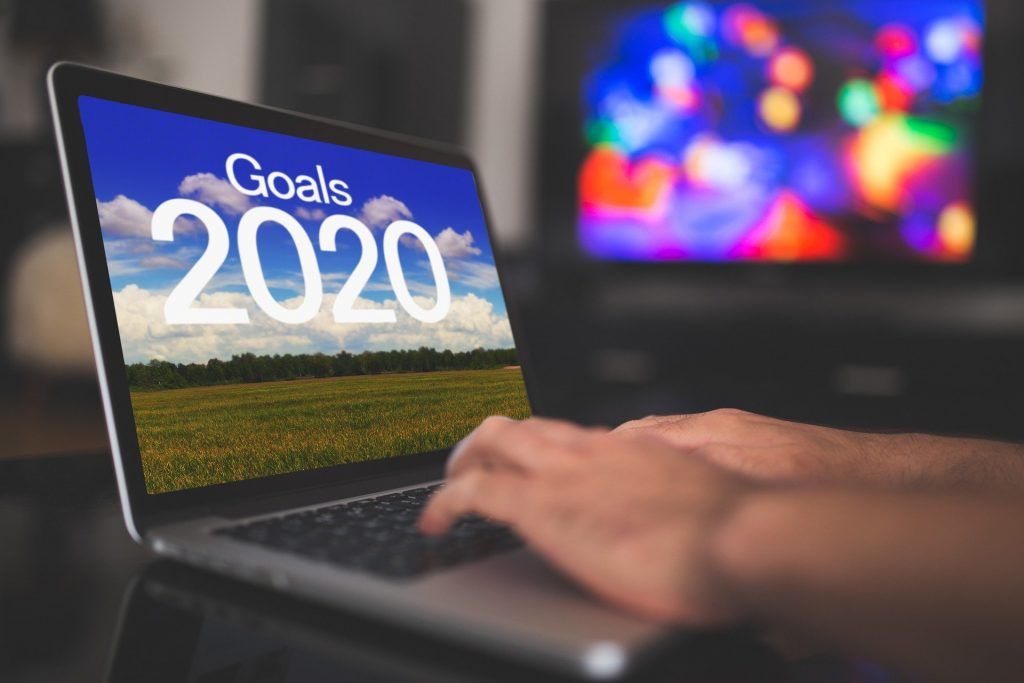 Business goal setting is much like the personal one. It needs to be ambitious but realistic, visionary but concrete. Organizational goals should never be set without any specificity. Thus, OKRs are essential for businesses, aiming to align all teams' strategies, improve company performance and boost productivity.
There's a myriad of reasons why OKRs triumph over the traditional NY Resolutions. Especially when it comes to business organizations. And we've listed just the top 4 of them for you:
1. Written record
People are 42% more likely to achieve their goals simply by writing them down. Apparently, having your past and current aspirations visible at all times can increase your chances of attaining them. Just by looking at clearly laid-out plans, you are one step closer to executing them. And you have all the necessary data for you to review and draw conclusions in one place – your OKR software.
Gtmhub will not only let you access all your OKRs, but also send you notifications to remind you to update your goal progress. Don't worry. We will not let you 'Set it and Forget it'! Did we mention that updating your progress regularly will definitely lead you to be more focused and accountable to yourself?
2. Tied to metrics
With OKRs you are basically breaking your goals down into smaller, measurable fragments. This way, you are way more likely to stay the course. Specificity and quantifiability allow easier progress tracking and improve motivation. Remember that without metrics goals are just mere wishes!
And have you heard of data-driven OKRs? The Gtmhub software integrates with over 150 systems, so your progress can be automatically updated. We also provide you with useful reports and beautifully visualized insights that will help you make informed decisions for the future.
3. Specific time frame
Planning a full year ahead can often be overwhelming for both organizations and individuals. And New Year resolutions usually suggest a mapped-out strategy for the whole year. But wouldn't it be easier if you could just divide the execution time for your plan into smaller actionable chunks? Christina Wodtke (writer, "Radical Focus: Achieving Your Most Important Goals with Objectives and Key Results") insists that imposing time constraints on objectives is healthier.
OKRs are usually set and tracked quarterly. 3 months is the perfect timespan – it gives you short and urgency-creating but enough time to accomplish important to-do's. And what if you want to do both annual and quarterly OKRs – the Gtmhub software lets you link them and achieve the ultimate alignment.
4. Focus & Transparency
OKRs let you focus on what really matters. You know your main goals and the ways to realize them. Especially in your professional life – whole teams/departments align on specific strategic priorities and the direction is clear. Everyone else in the company also knows what you are doing, and this is what we call transparency. Transparency is essential when you are a big group of people – staying accountable to someone motivates you even more and keeps you more disciplined. What's more, with your aspirational goals, you don't know who might see them and get really inspired.
Transparency is without a doubt more applicable to organizational goals, rather than personal. Still, if you ever decide to show your plans to your truest supporters or ask for advice, you can use Gtmhub to send them your OKRs directly while chatting over a collab tool.
Mic drop…
These are just several of our top picks. There are many more. Ditch those non-realistic NY Resolutions and start relying on a methodology, proven to work effectively.
And if you ever struggle to set up your OKRs, browse our blog and definitely start with the Anatomy of an OKR!