Best thing since sliced bread
Once upon a time data reporting was just a jumble of jotted numbers. Up until technology came along. Nowadays, we are enjoying beautiful and structured sets of data that can easily be turned into insights through various system integrations. What for? So, we make informed decisions and prepare for the future. This particularly applies to the corporate world. Reports are essential for any businesses regardless of size and industry.
Data strikes once again! It means getting everyone within the organization on the same page, ensuring quality businesses conclusions, providing clear and deep perception of situations and issues. And of course – alignment with performance indicators and successful goal setting.
OKR reporting
Reporting on Objectives and Key Results performance should be a must for every organization. Teams need to have that thorough understanding of what's going on within the company in order to move forward. OKR reports is just the way to do that – see the big picture.
How's that new strategy going? What are our strengths? What about weaknesses? Where do we have to take action? Combining your goal-setting process with the means to effortlessly and in an instant see how you are actually performing is priceless. It propels you to gain an in-depth look into the overall health of the business, all the while finding areas for improvement and opportunities for advancement.
Well, painting that big picture is not a mirage anymore. We have just introduced Performance & Process reports to turn you from productive to effective! Everyone, rejoice – they are here!
What are you getting out of it?
Clarity.
Transparency.
A sense of the direction you are heading.
Yes, you can conveniently draw conclusions and quickly make data-fueled recommendations. These reports have the power to illuminate where and what issues have occurred and help you identify performance problems or irregularities. Or even trends that need further investigation. Don't forget you can always compare your performances against past ones and properly evaluate your course of action.
Performance reports
Our Performance report gives you a powerful overview of the progress of your organization's OKRs and tasks.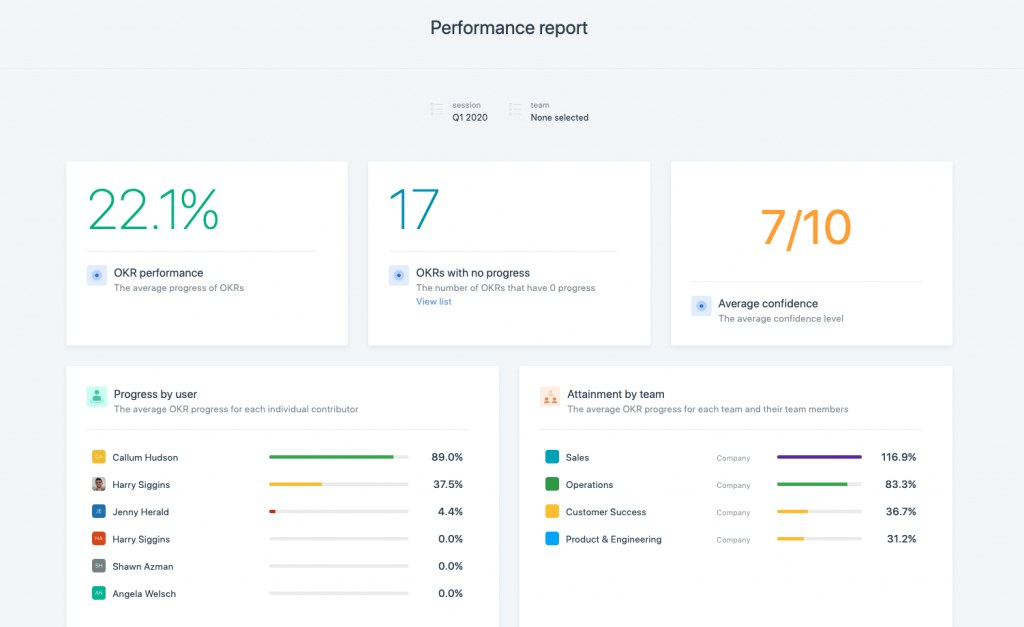 The report provides you with insights of how your efforts are translating into meaningful actions. The essential metrics that will be available for you include:
OKR performance
OKRs with no progress
Average confidence
Progress by user
Attainment by team
Progress by tag
Tasks
Refer to our online knowledge base for more information on how to access your reports.
Process reports
Process reports illustrate how effective and engaged your team is at executing OKRs. This report will fundamentally make it easy for you to fully leverage the powers of this goal-setting approach.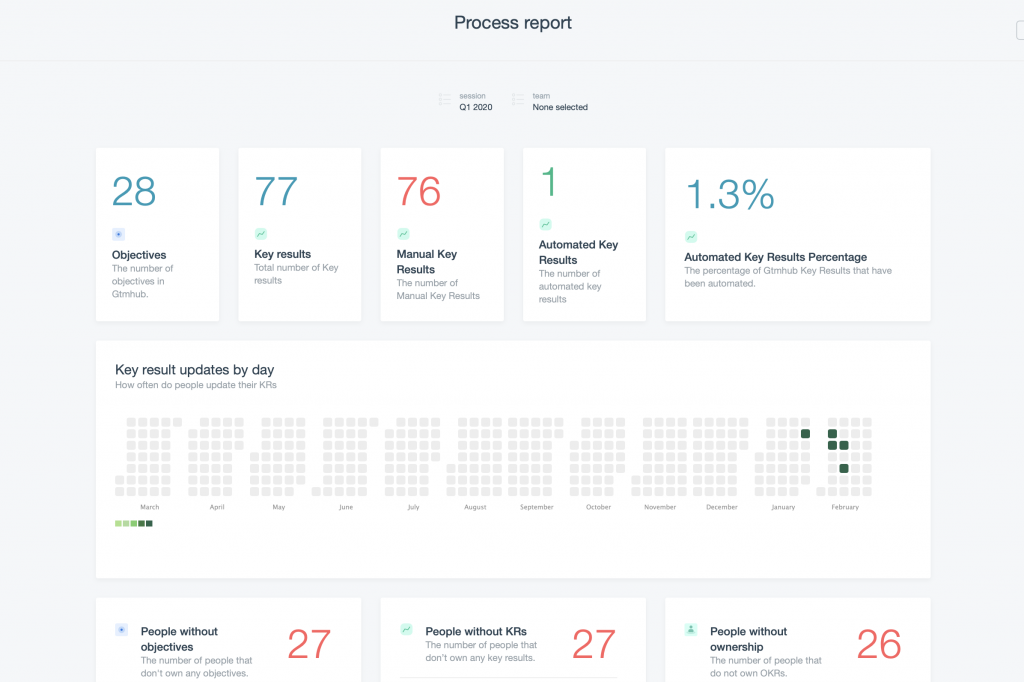 Here are several insights you can find in your Process reports:
Total number of: Objectives, Key Results, Automated/Manual Key Results, Key Results updated by day
People without Objectives or Key Results
People without ownership
Objectives without KRs
Objectives with too few or too many KRs
Sounds insightful, doesn't it?
Learn more about our Process reports here .
Coming soon
1. Yes, we are making them customizable and exportable. How ecstatic are you right now?
2. We are also planning to create more reports for you! So, you can improve your business strategy. So, you can navigate your business into the future.
3. Last but not least, we will have example reports ready and waiting for you in our one-and-only Marketplace ! You've surely heard of Outliers or Sales Velocity reports ? And this is just the beginning…
Stay tuned for more updates from us! Your feedback is always welcome!