Creating objectives for your employees, teams, and organization is critical for success. It ensures that everyone is aligned and working towards a common goal. Moreover, it encourages accountability, ownership, and transparency — ultimately helping you find success in your strategy execution.
There are multiple goal-setting frameworks you can use to manage this process – two of which are OKRs and MBOs. These are designed to track, manage, and evaluate your business outputs. In this article, we'll dive into OKRs vs. MBOs to help you understand the right goal management approach for you.
What are OKRs?
Objectives and Key Results (OKRs) refer to a goal-setting methodology that facilities internal alignment and measurability across your organization. This framework is made up of two parts:
Objectives : succinct, qualitative descriptions of what you're trying to achieve
Key results : quantitative metrics that allow you to track progress towards your objective
---
Learn more in our article What are OKRs? Objectives and Key Results Explained .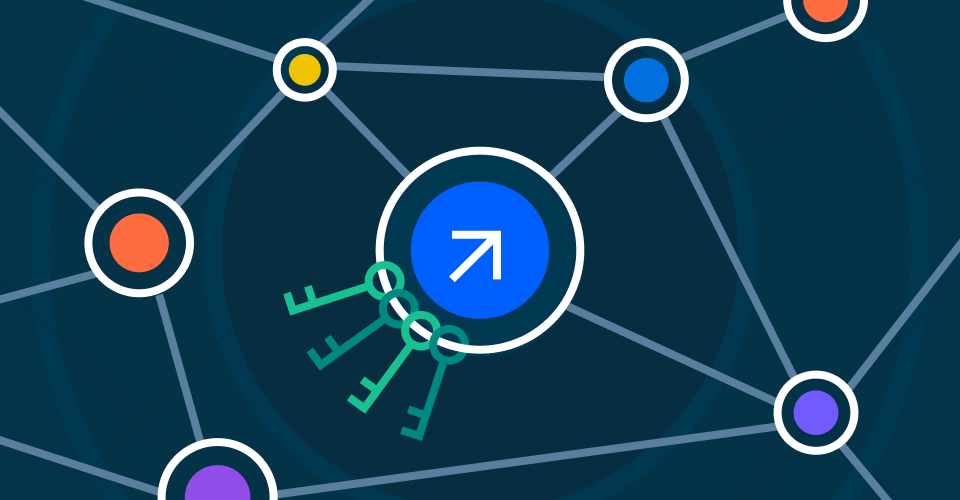 ---
What are MBOs?
Management by Objectives (MBO) is a methodology for improving organizational performance. It's based on a top-down approach, where top company goals are used to establish employees' objectives. Essentially, you use MBOs to set the overarching company objectives and see how individual employees contribute to the organization's primary goal.
A history of MBOs and OKRs
According to Andy Grove's book, Measure What Matters, Peter Drucker developed MBOs in the 1950s. The rationale behind this methodology is that when people choose their own course of action, they are more likely to see it through. The MBO framework has been popular with many large corporations, including Hewlett-Packard and Intel.
In turn, OKRs evolved from MBOs. OKRs were designed to offer more clarity on goals by clearly outlining how the company defines success. Developed by Andy Grove and John Doerr in the 1970s, OKRs help teams and organizations reach their goals using identifiable and measurable results. By design, the OKR framework is a standard that should be adopted by the entire company, giving individuals a shared purpose and creating alignment across teams.

---
See how your teams can use OKRs for alignment.
---
The key similarity between OKRs and MBOs is the use of objectives, where both frameworks set up a primary goal for the company or team. Yet, while these two goal-setting frameworks share this similarity, they're vastly different in structure, orientation, and implementation.
MBO vs. OKR differences
Goal structure
Strategy
While both MBOs and OKRs use detailed objectives, OKRs further outline the measurable tasks that contribute to these objectives. This tactical approach to OKRs is built into the framework, while MBOs are typically limited to setting higher-level ambitions without actionability.
Scope
MBOs aim for 100% objective completion, while OKRs aim for 60-80%. This confirms that OKRs encourage more ambitious and innovative goals than MBOs.
Metrics
The analysis of MBOs can either be qualitative or quantitative, while the analysis of OKRs is always quantitative. This leaves no room for ambiguity when gauging the success or failure of your OKRs. Yet, using OKR software suitable to your business , you can obtain qualitative feedback on OKR progress. Such platforms can offer additional anecdotal feedback and analysis alongside numerical performance measures.
Goal orientation
Individual vs. team
MBOs are assigned to individuals, while OKRs are distributed among teams. While there's usually a main lead and contributor for key results, OKRs focus on promoting a team mentality and mutual success throughout teams.
Confidential vs. public
MBOs are discussed between employees and their managers, while OKRs are discussed openly throughout your business. As such, OKRs are more solution-oriented as they improve collaboration within and across teams.
Relationship to compensation
MBO performance tends to affect employees' paychecks while OKR performance does not. OKRs emphasize company goals and how each employee contributes to these goals, encouraging performance evaluations to be kept separate from OKRs.
Goal implementation
Schedules
While you typically write OKRs for a given quarter (and sometimes monthly or yearly), MBOs are traditionally set annually. The risk with MBOs' annual timeline is that priorities shift or MBOs lose importance, resulting in a lack of focus.
Dialogue
An MBO's status updates are communicated in isolation between manager and employee. Contrastingly, OKR status updates are shared openly among teams, with transparent discussions ensuring goal achievement is paramount to your company's culture.
Revision
MBOs are set at the beginning of a cycle and remain static. On the other hand, OKRs – particularly key results – are subject to revision if teams see fit. OKRs promote an agile approach to problem-solving by encouraging you to review the ongoing success of chosen methods.
For a quick overview of OKRs vs. MBOs, here's a table highlighting the main differences between OKRs and MBOs: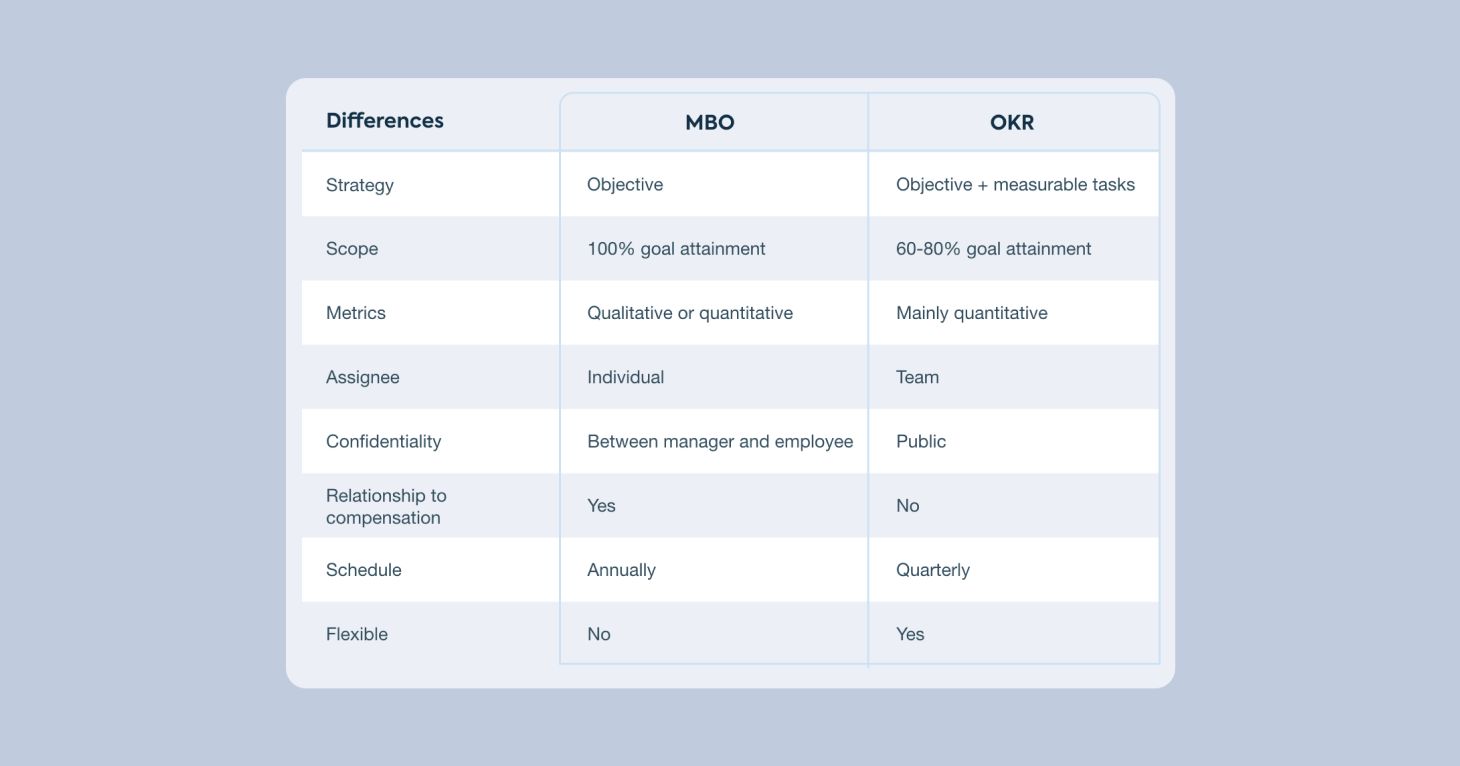 Pros and cons of OKRs and MBOs
Knowing the advantages and disadvantages of OKRs and MBOs can help you understand which of these goal-setting frameworks is best suited for your organization. Let's glance over these below.
Pros and cons of OKRs
Pros
Enable quick goal setup
Provide flexibility and agility
Inspire innovation and creative problem solving
Encourage collaboration, alignment, and transparency across teams
Cons
Require ongoing check-ins to yield results
Need to be consistently updated to fit changing environments
Entail training programs and experienced staff to be effective
Pros and Cons of MBOs
Pros
Establish defined roles for employees
Encourage employees to be committed and proactive
Improve rapport between managers and employees
Cons
Remain inflexible to changing circumstances
Need skilled managers to be successful
Require long-term commitment to be effective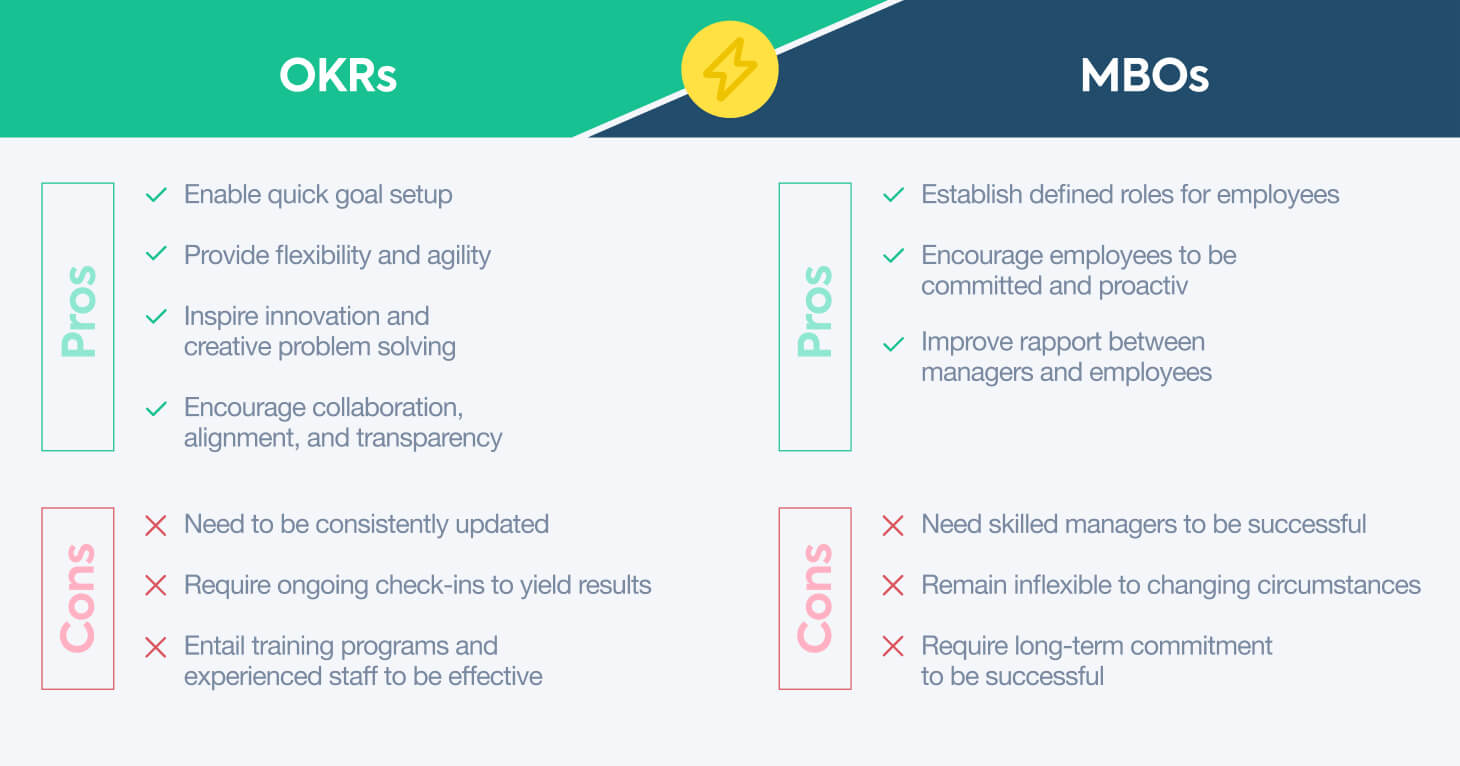 OKRs vs. MBOs examples
To give you an example of the differences between an MBO and an OKR in real life, here are a few examples of OKRs vs. MBOs in different departments.
Marketing
Marketing MBO example
Ensure the company meets the revenue targets
Marketing OKR example
Objective: Ensure the company meets the revenue targets
Key result 1: Increase new inbound sales from $25k to $50k per month
Key result 2: Attract 500 new marketing qualified leads
Key result 3: Attract 100 new marketing qualified leads from EMEA
Key result 4: Generate >$30M in new qualified pipeline from Marketing sourced leads
Key result 5: Document and implement the new Account Based Marketing (ABM) process
See more marketing OKR examples.
---
Product management
Product management MBO example
Successfully launch the new product
Product management OKR example
Objective: Successfully launch the new product
Key result 1: Conduct 30 customer development interviews
Key result 2: Review 10 usage videos via UserTesting.com and summarize it internally
Key result 3: Do 2 training sessions on the new product for Marketing and Sales teams
Key result 4: Review 15 customer requirements documents from Product Marketing
See more product management OKR examples.
---
Human Resources (HR)
HR MBO example
Establish a more inclusive workplace
HR OKR example
Objective: Establish a more inclusive workplace
Key result 1: Create a diversity, equity, and inclusion (DE&I) plan
Key result 2: Hold one training session on diversity, equity, and inclusion with an attendance rate of 100%
Key result 3: Hire 2 diverse employees in 3 departments
See more HR OKR examples.
---
Engineering
Engineering MBO example
Improve the quality of our product
Engineering OKR example
Objective: Improve the quality of our product
Key result 1: Reduce the average number of new bug reports from 72 per month to 60 per month
Key result 2: Increase the crash-free ratio from 96% to 99% for the new release
Key result 3: Reduce average QA rejections per-feature from 1.7 to 1.0
Key result 4: Increase code coverage from 35% to 50%
See more engineering OKR examples.
---
Sales
Sales MBO example
Grow sales in the European market
Sales OKR example
Objective: Grow sales in the European market
Key result 1: Increase SQLs in the European market by 20%
Key result 2: Create three new sales training programs
Key result 3: Increase sales in the European market by 15%
See more sales OKR examples.
In brief
OKRs and MBOs are both robust goal-setting methodologies. Yet, many differences arise when looking at the features of OKRs vs. MBOs. While they both use objectives as a North Star, the OKR methodology takes a more granular look at what you need to do to achieve ambitious objectives, pinpointing actionable steps towards success. Additionally, OKRs' broader scope and transparent progress metrics ensure alignment and visibility across your teams. Their flexibility in updating KRs further ensures you aren't tied down to irrelevant goals.
As such, the discussion of OKRs vs. MBOs boils down to differences in depth, actionability, and measurability. All in all, OKRs offer a more timely, comprehensive, and quantifiable approach to goal-setting than MBOs.
---
At Gtmhub, we're committed to helping you bridge the gap between strategy and execution. Inspired by the Objectives and Key Results (OKR) methodology, our platform is designed to help you align your teams, improve focus and foster transparency.
Quick-start your OKR journey with ready-to-go OKR templates from our Marketplace or connect with 160+ Integrations to update your OKRs and KPIs automatically to easily make data-driven decisions with our customizable Insights and Dashboards.
Ready to achieve your most ambitious goals? Start a free trial today or book a demo to see Gtmhub in action.