DE&I initiatives are top of mind for many businesses right now, yet companies are often unsure how to approach them. Using a goal-setting method such as OKRs (objectives and key results), you can ensure your company is on track to progressively cultivating a DE&I culture.
OKRs are a collaborative goal-setting framework that organizations can use to establish aspirational goals. When used across your organization, OKRs can facilitate high output management, team alignment, and enhanced communication. Yet, DE&I OKRs are particularly powerful if you're looking to foster an inclusive and purpose-filled work environment. Read on to find out the benefits of DE&I OKRs, how to implement them, and DE&I OKR examples to inspire your own OKRs.
The benefits of DE&I OKRs
DE&I OKRs provide flexibility
OKRs are highly flexible. They allow you to tackle DE&I from multiple angles and cover all grounds. For example, you can create separate DE&I OKRs for:
Recruiting diverse talent
Attendance for DE&I training programs
Promoting a welcoming and inclusive work culture
Establishing inclusive performance and promotion processes
Moreover, you can continuously update your DE&I OKRs as you see fit. If a key result proves irrelevant or you aren't progressing as expected, you can easily change your OKRs to suit the current environment.
DE&I OKRs help you take measurable steps towards DE&I
DE&I OKRs clearly depict what you need to do to achieve your goals. As objectives are end-goals and key results act as measurable stepping stones, OKRs break down the final goal into successive tasks. This makes setting DE&I goals simple, actionable, and straightforward.
DE&I OKRs hold leaders accountable
As each OKR belongs to an individual owner, OKRs can help establish leadership around DE&I objectives. DE&I OKRs keep leaders accountable for their DE&I goals, ensuring that DE&I isn't just lip service to keep people happy. Instead, leaders must show results when spearheading DE&I OKRs and advancing DE&I in the workplace.
DE&I OKRs keep teams aligned
You need a solid communication strategy to successfully implement DE&I across your organization. Effectively communicating with teams and individuals in your company is vital to internal alignment, ensuring everyone is on track and up to date with DE&I developments. Using clear and concise DE&I OKRs, you can provide clarity on what your organization is striving to achieve. This way, teams and individuals can work separately (but in alignment) to ensure DE&I goals are achieved.
DE&I OKRs keep employees engaged
Integrating DE&I in the workplace requires a community of invested employees, where joint efforts contribute to a DE&I culture. DE&I OKRs can help your employees visualize what they need to do and how close they are to achieving their objectives. This keeps them motivated and engaged as they see how their efforts play a part in DE&I goals.
---
See how Gtmhub can help you visualize your DE&I progress with Insightboards .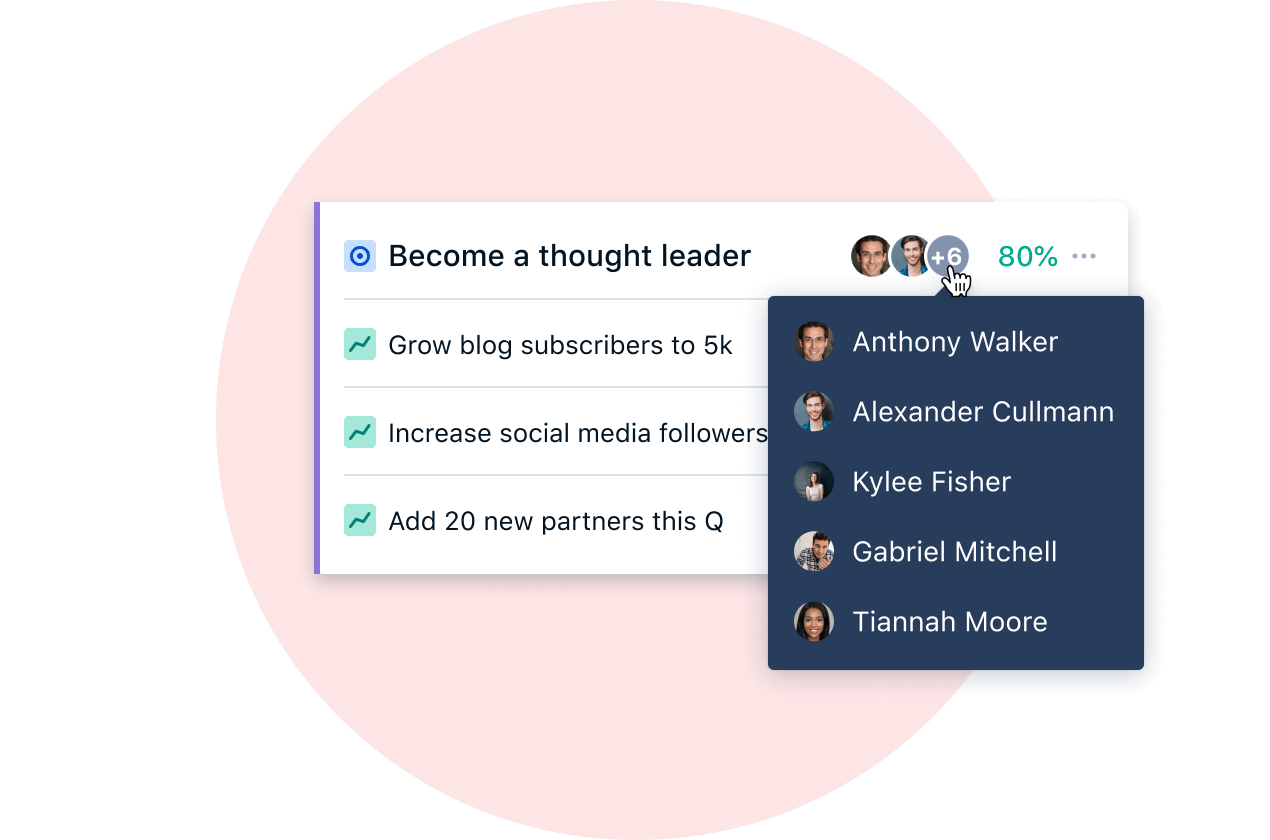 ---
How to write and implement DE&I OKRs
OKRs are designed to facilitate goal setting for companies of all sizes. Given the broad scope of OKRs, individual employees, teams, and departments can also use OKRs to get results. When it comes to writing incredible OKRs , you can use the following formula:

Objectives need to be qualitative, actionable, ambitious, and time-bound. On the other hand, as key results are used to indicate whether an objective has been attained, they should be quantifiable, measurable, and time-bound, making it easy to gauge progress.
After setting your DE&I OKRs, you must keep up with progress. Those working towards OKRs should assess progress regularly (e.g., weekly) and hold retrospective meetings at the end of the OKR period (typically a quarter) to see what worked and what didn't.
---
Learn more about establishing the ideal OKR cadence for your reviews in our video below.
---
For best results, make DE&I OKRs a collaborative process. Using brainstorming sessions, you can engage your team, provide a sense of ownership, and drive accountability for DE&I OKRs. Ultimately, the goal-setting process should encourage groups and individuals to care about and work towards DE&I OKRs.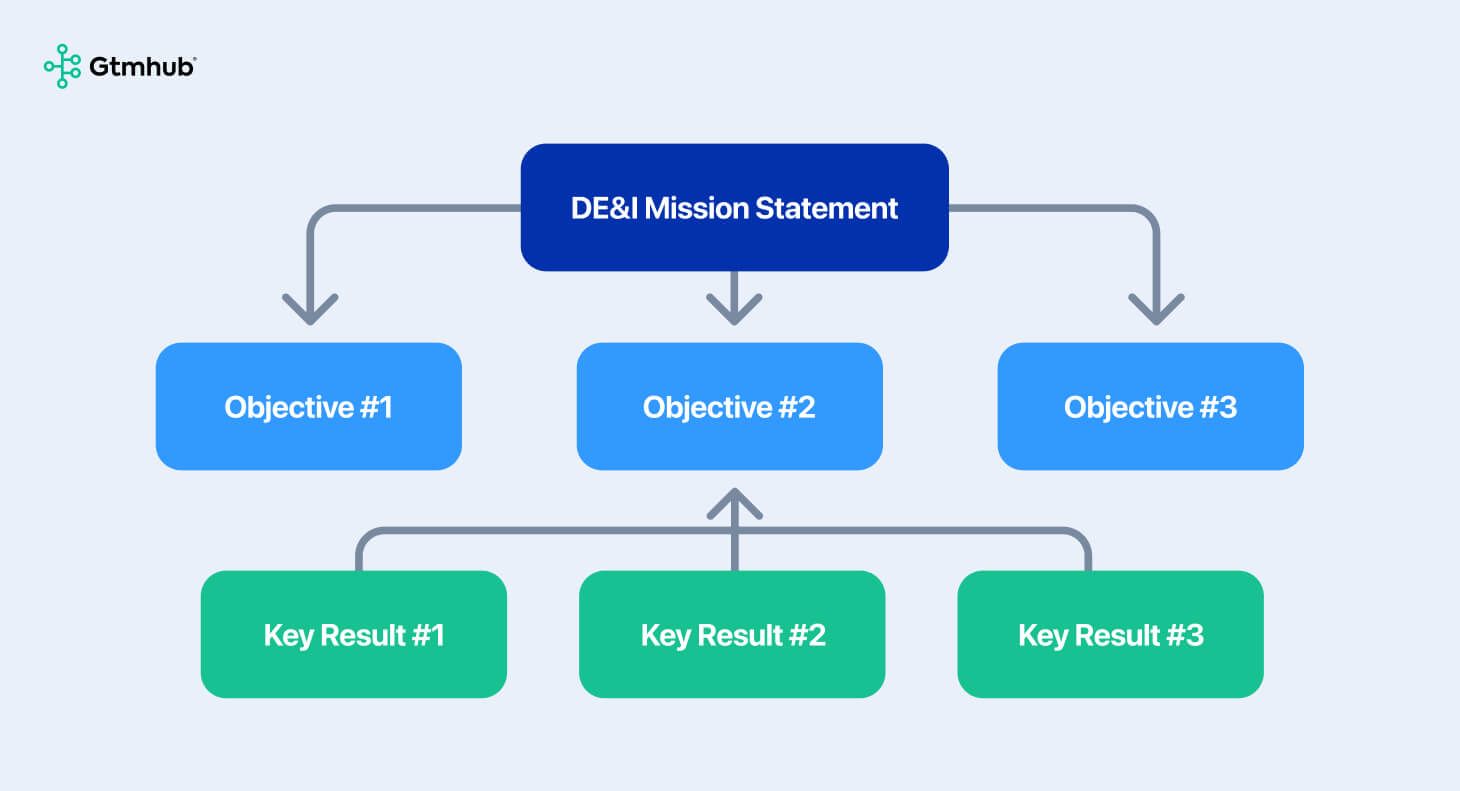 DE&I OKR examples
Establishing DE&I OKRs as part of your environmental, social, and governance (ESG) initiatives can help you develop the company culture you envision. To keep you inspired, we've compiled a list of DE&I OKR examples you can look over when writing OKRs for your teams, departments, or company.
Example 1
Objective: Enhance our company's reputation to reflect an open and accepting workplace
Key result 1: Gain responses from 80% or more of the company in an initial benchmark survey
Key result 2: Hold three diversity, equity, and inclusion trainings with an attendance rate of 100%
Key result 3: Improve the number of diverse candidates in the pipeline by 20%
Key result 4: Publish three blog posts about diversity, equity, and inclusion as it relates to our culture per quarter
Example 2
Objective: Dramatically improve diversity in our organization
Key result 1: Overhaul 100% of our job descriptions with inclusive language
Key result 2: Increase the percentage of diverse employees from X% to Y%
Key result 3: Increase the percentage of women in leadership positions from X% to Y%
Key result 4: Increase the percentage of underrepresented minorities in tech roles from X% to Y%
Key result 5: Increase the percentage of minority internships from X% to Y%
Example 3
Objective: Enhance our stance on DE&I in the workplace — both internally and externally
Key result 1: Post five blogs about DE&I in Q3
Key result 2: Edit our existing policy on DE&I as part of our internal code of conduct
Key result 3: Conduct an internal DE&I survey and attain a response rate of greater than 95%
Key result 4: Complete an internal assessment on current employees, separating employees by roles and publishing findings internally
Key result 5: Implement a new mentor program targeting underrepresented minorities, with at least 70% participation by managers and senior engineers
Example 4
Objective: Educate employees on diversity, equity, and inclusion
Key result 1: 100% participation in DE&I sensitivity training
Key result 2: 100% participation in DE&I unconscious bias training
Key result 3: 100% of hiring managers complete interview training
Using OKR software to create DE&I OKRs
Having the right OKR software tool in place can simplify the creation of DE&I OKRs, making the communication, monitoring, and alignment of DE&I goals effortless. When looking for an OKR software, ensure it offers:
Organization-wide alignment amongst departments, teams, and employees
An intuitive approach to OKRs, making it easy to use for the whole organization
Customizability, where OKRs can quickly be updated as new data emerges
Scalability to enable OKRs for growing individual groups
Data visualization for better data comprehension
Integrability for seamless communication between applications
With these features, your OKR software can fit seamlessly into your existing tech stack and help your organization unite DE&I efforts in a manageable way.
---
At Gtmhub, we can help you establish DE&I OKRs to bridge the gap between strategy and execution. Using the Objectives and Key Results (OKR) methodology, our platform is designed to help you align your teams, improve focus and foster transparency.
Quick-start your OKR journey with ready-to-go OKR templates from our Marketplace or connect with 160+ Integrations to update your OKRs and KPIs automatically to easily make data-driven decisions with our customizable Insights and Dashboards.
Ready to achieve your most ambitious goals? Start a free trial today or book a demo to see Gtmhub in action.