Seven C's of OKR Success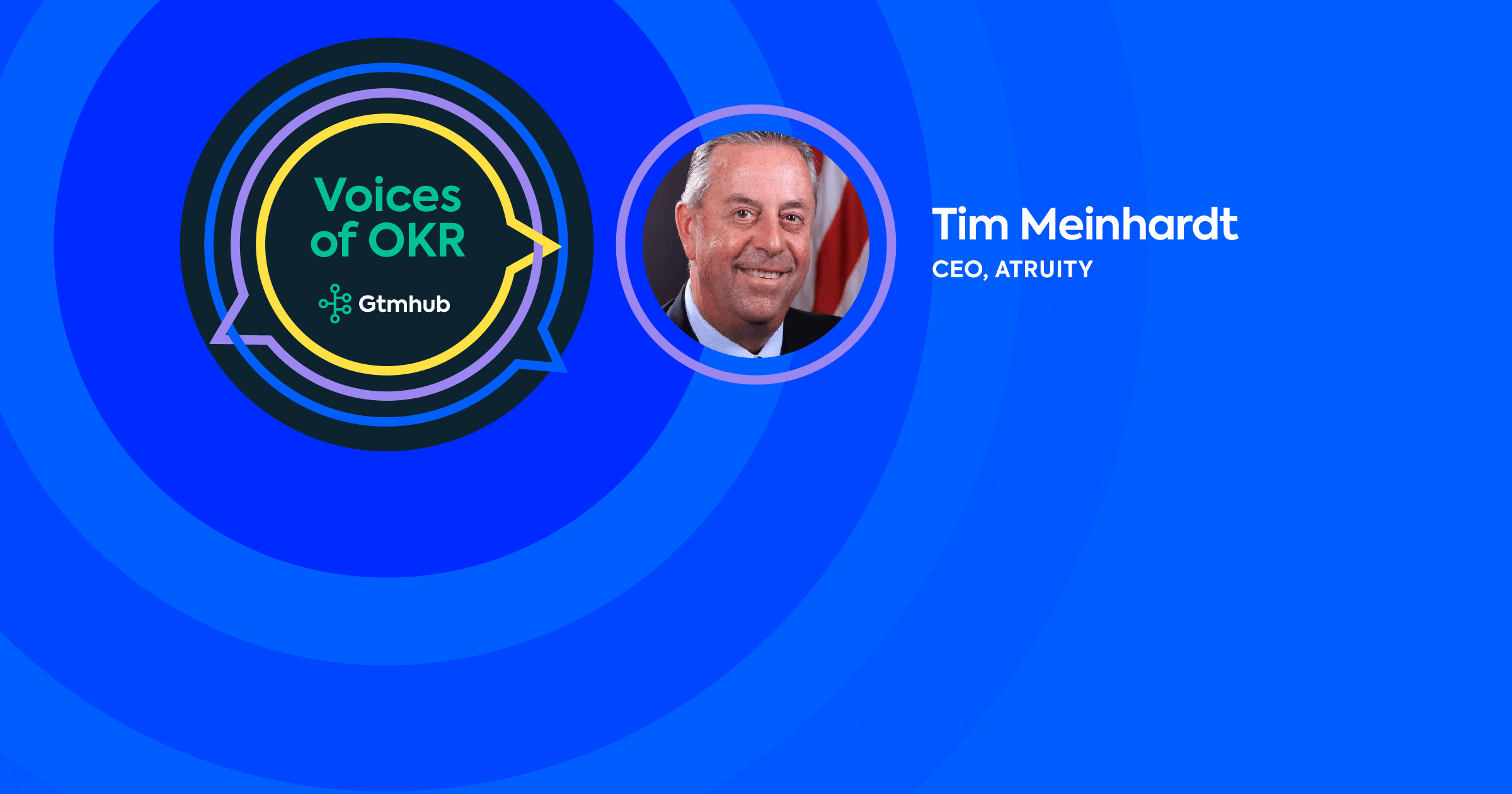 Tim Meinhardt is the CEO of Atruity – a trusted OKR consultancy located in the Washington DC area. In this Voices of OKR feature Tim talks about the seven key factors that an OKR Implementation program needs to be successful.
Every successful OKR Implementation has seven things in common. Here at Atruity – we call these seven commonalities the " Seven C's of OKR Success ". They represent the seven key factors that an OKR Implementation needs to thrive, receive buy-in and be successful.
Each "C" listed below represents one piece of the OKR Implementation puzzle. If you utilize and practice every "C," your OKR program will be in a good place to succeed.
The Seven C's of OKR Success are:
– C-Suite
– Champion
– Community
– Collaboration
– Communication
– Consistency
– Commitment
C-Suite
The first "C" is C-Suite and represents the CEO, Presidents and leaders of the organization. Without C-Suite buy-in or participation, your OKR program is going to struggle for numerous reasons. Real management transformation takes commitment and it starts at the top. If you are looking to successfully implement OKRs, you will need this commitment and it will need to start at the top of the organization.
Champion
The second "C" is for Champion it represents the OKR Champion within your organization (or outside of your organization) that you have chosen to run your OKR program. Every OKR Implementation needs the right designated OKR Champion to run the program. Without an OKR Champion, your program will lack the organization and management that it needs to succeed.
Community
The third "C" is Community and it represents all of the members of the organization that are participating in the OKR program. Community is crucial as without community buy-in and participation, OKRs will be misaligned and the program will lack the enthusiasm needed to gain buy-in.
Collaboration
The fourth "C" is Collaboration and it represents teamwork within an organization. Without collaboration from multiple departments, teams and members of the organization – you will never achieve top-down, bottom-up and cross departmental OKR collaboration. Departments and people need to work together to come up with, and achieve, the best OKRs.
Communication
The fifth "C" is Communication and it represents the importance of CFR's (Communication, Feedback and Recognition) with an OKR program. Communication is the key that holds engagement and excitement together. CFRs and OKRs work hand in hand to create a new management culture.
Consistency
The sixth "C" is Consistency and it represents the adherence to the OKR framework and methodology within your organization. Without consistency, there will be no trust within the organization and the OKR program will not flourish. Remember – consistency is more important than perfection.
Commitment
The seventh "C" is Commitment and it represents the importance of making a decision to implement OKRs and sticking with it, even when challenges and set-backs arise. Complete commitment can take time, but if you apply all of the principles listed above, commitment will happen.
Learn more
To learn more about the Seven C's above in greater detail, register for Gtmhub's upcoming free webinar with Atruity. You can also download Atruity's free E-Book – Seven C's to OKR Success. They will both provide greater detail on each "C" listed above and help you to ultimately implement OKRs within your organization successfully.
Remember – to be successful, every OKR implementation must have C-Suite buy-in and participation, an OKR Champion, Community participation, Collaboration between all teams, Communication throughout the organization, Consistency with the program and Commitment to seeing the program through, even after challenges and setbacks.
Looking to get started with OKRs? Try Gtmhub FREE for 7 days!