Putting Excel to Bed - Progress and Task Management Reports for an Enterprise Software Customer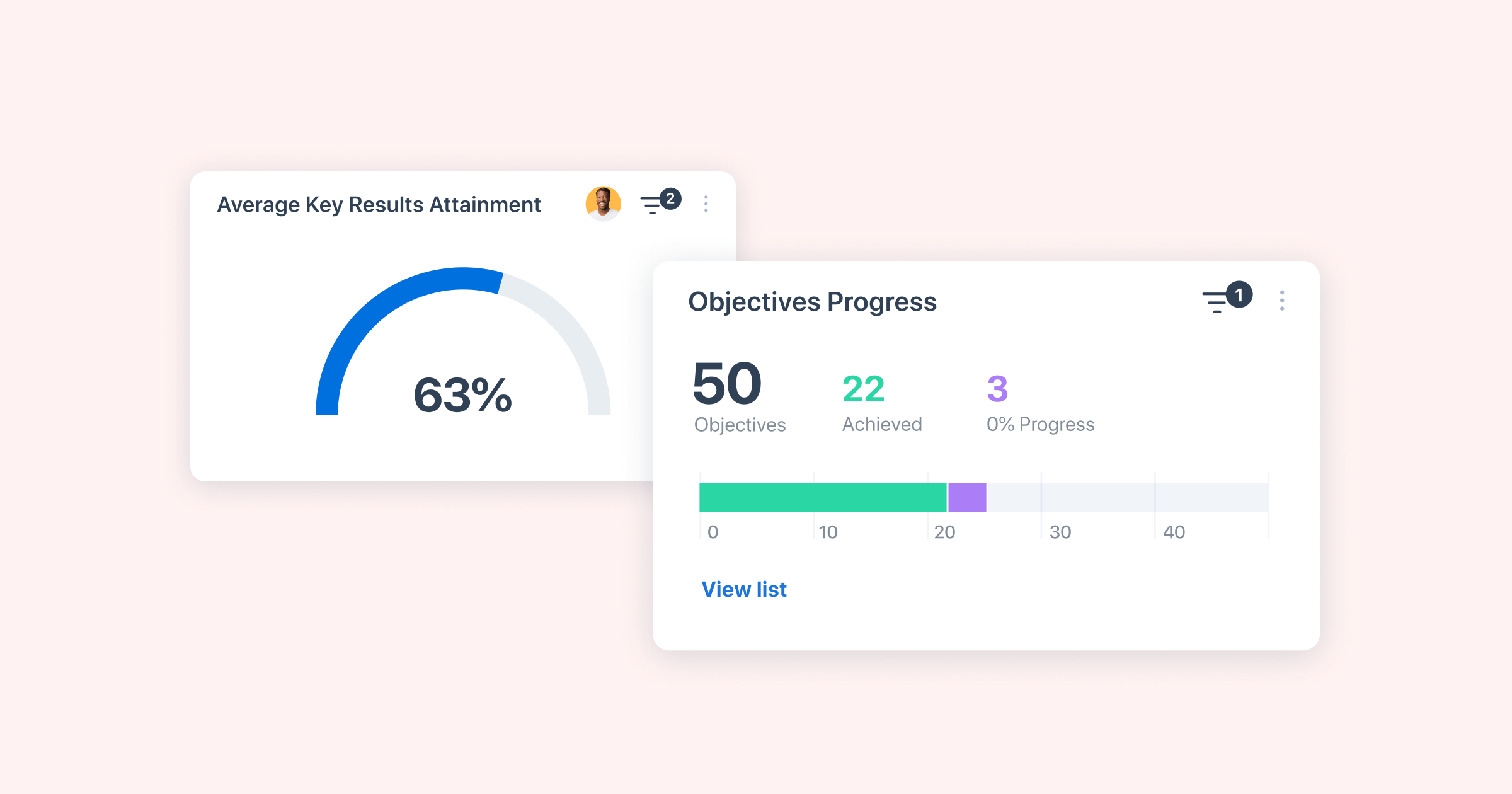 A major software vendor was managing their OKRs in spreadsheets. This caused all manner of challenges around having correct, up-to-date data as well as the ability to make strategic decisions with certainty. Here's how they improved the efficiency of their internal meetings, increased awareness of overall company OKR performance, and overhauled how they prioritized initiatives.
The challenge
With over 10,000 employees spread across the globe, this business had a real challenge in understanding the performance of parent OKRs and where a new direction or support was needed for future planning.
Previously OKRs were tracked in Excel spreadsheets. These were incredibly inefficient as they required manual updates, provided a limited view (as they did not connect to other business systems), and were highly prone to breaking due to changed formulae and user error. This made meetings around performance and progress very challenging, leading to wasted time in fixing errors, missed insights due to limited analytics, and trend analysis was all but impossible in the mass of numbers.
The solution
The first step was onboarding them with Gtmhub. Within no time, they were up and running, utilizing our software to record, align and measure their OKRs. Features such as alignment tree and a wide selection of integrations meant that all the data and information they needed, could be connected to OKRs and overall company strategy.
From there, our Technical Success team built out an easy-to-use dashboard that could be used in performance meetings to illustrate overall progress, as well as the means to drill down into the details.
For each parent OKR, we vizualised:
Average Key Result attainment
The number of Key Results never updated
Average confidence rating
Number of flagging Key Results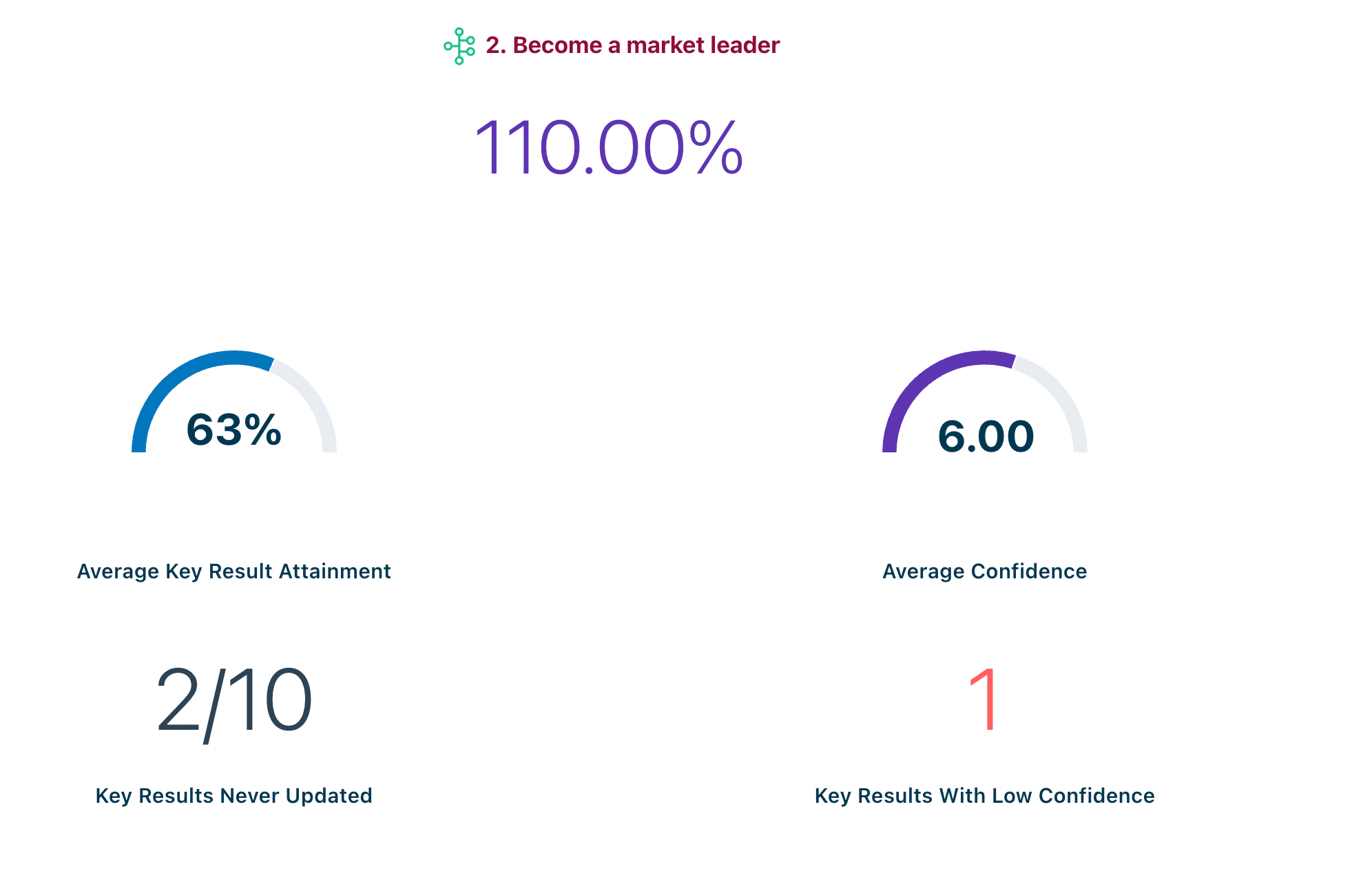 In addition, the data was entirely interactive and clickable, so stakeholders within the meeting could understand the causes of high or low performance. For each child OKR we provided:
OKR owners
The session the OKR was linked to
Confidence level
Latest OKR comments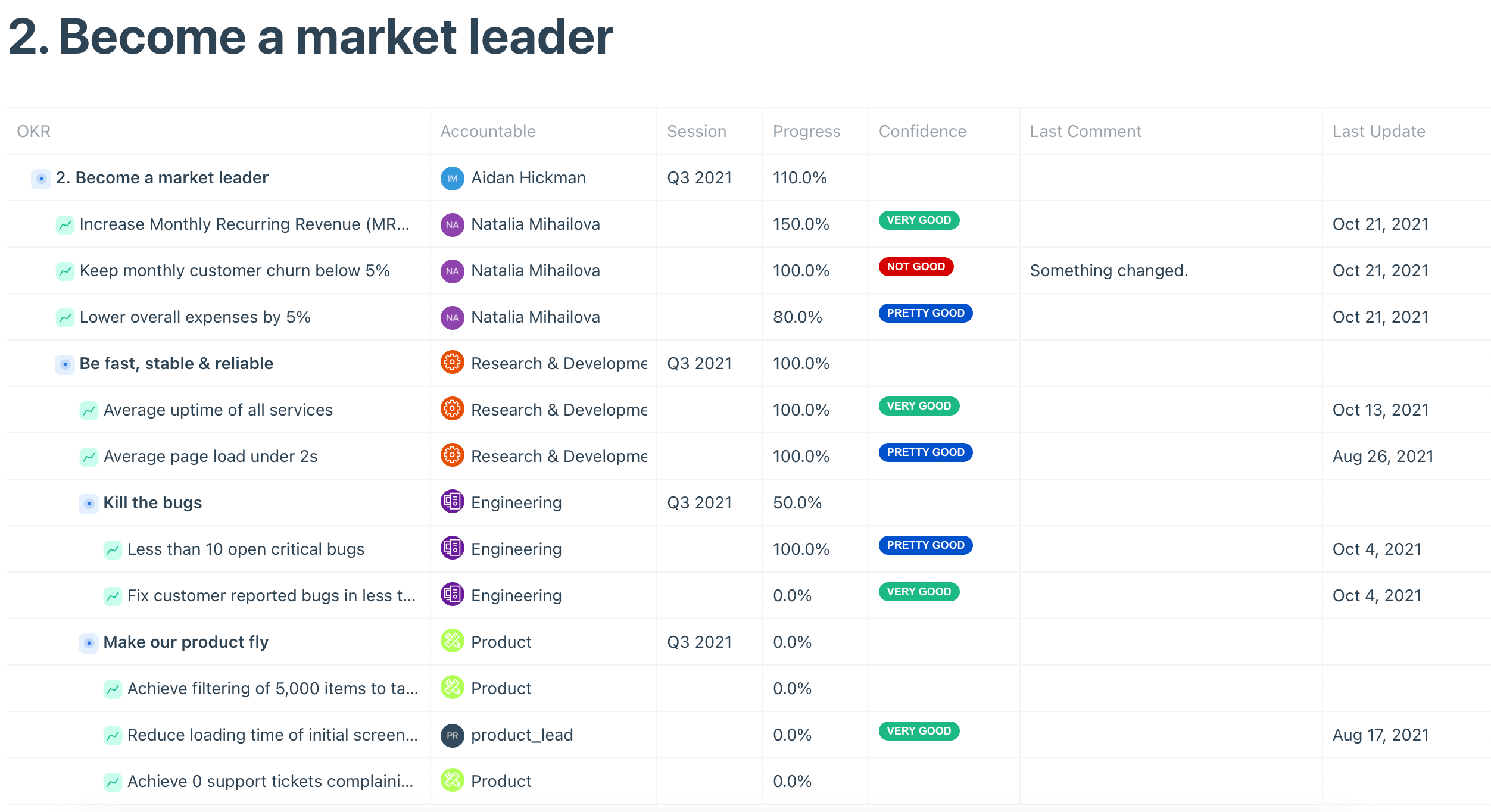 The outcome
Our solution saved this business many hours in inputting, interrogating, and understanding the data each month. Moreover, by connecting their OKRs to our many integrations, they were able to enrich and automate their Key Results with additional data and insight. This meant better resource planning, additional time-saving, and the ability to automatically track progress.
Get in contact
If you're interested in finding out how we can speed up your implementation of Gtmhub or how you can extract more insights from your data, drop us an email and we'll arrange a 15 minute call to discuss your requirements.