A hands-on performance management guide for SMEs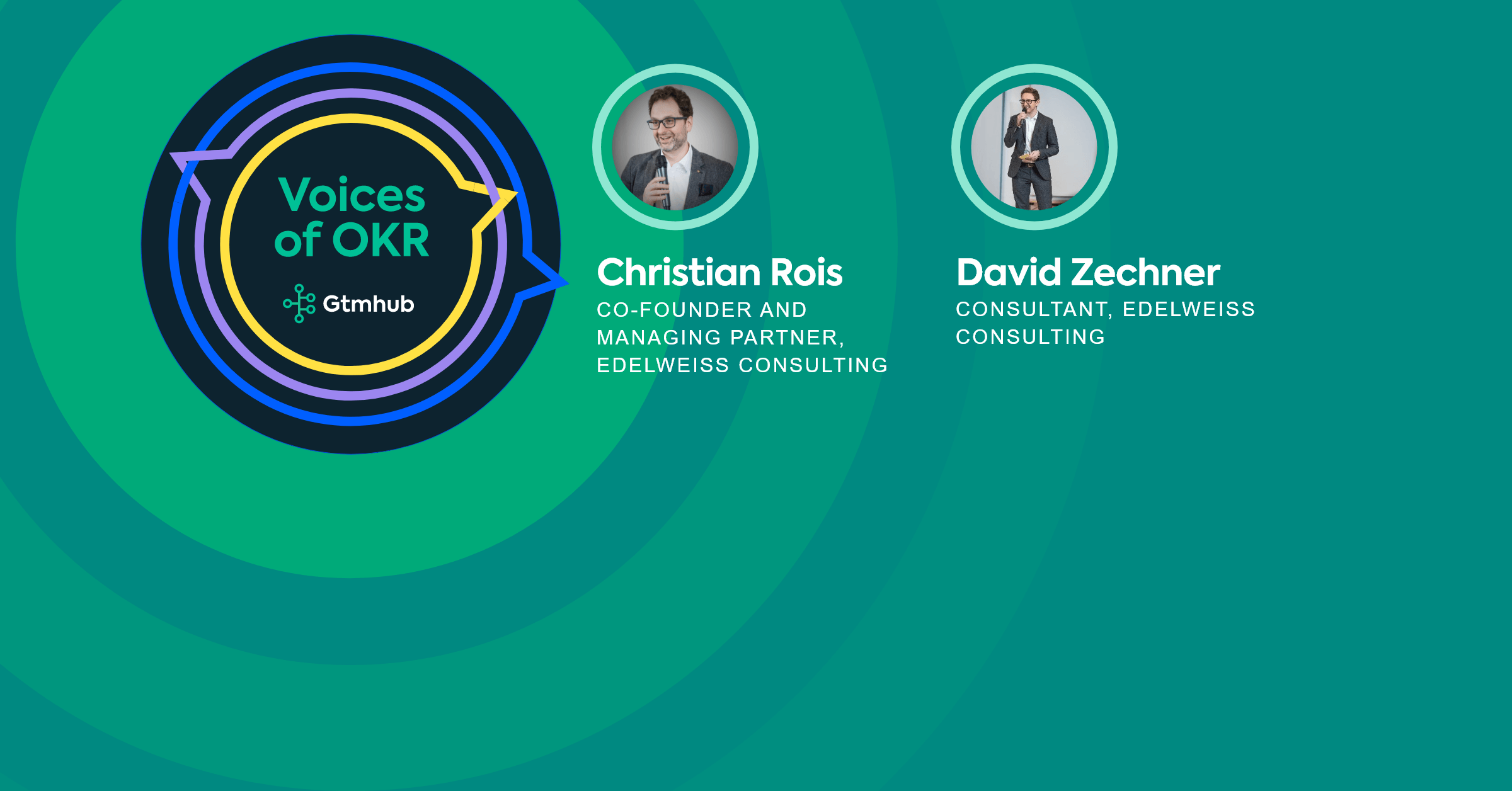 Christian Rois and David Zechner are consultants at EDELWEISS CONSULTING – a leading consultancy company based in Austria. Christian is an entrepreneur, co-founder and managing partner at EDELWEISS CONSULTING, consulting executives in IT, Finance, NPOs and the public sector. David is a consultant, certified trainer, and overall an IT person with a hands-on mentality and passion for change management. In this Voices of OKR piece Christian and David explain how small organizations can ensure that OKRs are not perceived as cumbersome and obstructive. Instead, they clarify which parts of OKRs are essential, which are add-ons or maybe even harmful if implemented too fast.
Today's small businesses
The success and resilience of an organization depend on its performance. Performance can be described as a process of an organization turning its goals into results. Therefore, everyone in the organization should first and foremost know the overall goal(s). Secondly, each person should contribute to the organizational goals with his or her actions.
One would think that specifically small organizations are good at focusing on clear common objectives. Actually, established routines and grown structures in small organizations often tempt people to do things the same way over and over again. This means that teams are hesitant to make any changes (because they are firmly anchored).
To grow, small organizations need to be able to move and react quickly. Digitalization ensures constant exchange of real-time information in uninterrupted continuation and requires permanent readiness to adapt. For many companies, especially small ones, change and associated crises have thus become the norm. They are desperately seeking to alter their management and goal management systems so that disruption can be anticipated and dealt with quickly.
Consultants are suggesting that organizations can find the holy grail of performance management by implementing Objectives and Key Results. More often than not, OKR implementation fails, and the new methodology is perceived more burdensome, than helpful. We would like to share the following insights on how small and medium enterprises can prevent such situations and establish a successful Performance Management System like OKRs based on their previous successes.
OKR lessons
Exaggerated expectations of OKRs
Organizations are asking OKRs to do too many things at once.
Tip for beginners #1 : Try the methodology out in individual business areas like marketing or while introducing a new product.
Interlinking the Objectives
It is a big challenge to connect company objectives with daily work of every individual. One of the main reasons is that OKRs are hardly suitable to manage all objectives of an organization or even a team. They support the prioritization of work far more. Focusing on the most critical organizational goals makes it more manageable to achieve these goals (instead of a bulk of goals on different management layers, which are not correlated).
Tip for beginners #2 : OKRs are great to be used in companies with several teams with different tasks which are interrelated to take a step towards goal alignment.
Difference between Objectives and Key Results
Objectives should define clear outcomes. They should be formulated in a concrete, precise, well-defined, and execution-oriented way. The first central question to define your Objectives is: "Where do I want to go?" and then to develop a feasible plan in the form of "Key Results" that outlines how the organization will achieve the desired Objectives. "One thing remains fundamental, Objectives and Key Results must be measurable." (Doerr, 2018).
Tip for beginners #3: Used correctly, Objectives and Key Results are a great way to set goals with important milestones and to make them measurable. Another important thing is to not define routine tasks as goals.
Complexity and task-intensity of OKRs
Defining the Objectives personally, coordinating them with others and then visualizing them transparently for everyone takes much time. Processes need to be automated and take as little time and effort as possible or acceptance will suffer.
Tip for beginners #4: A strong urge to get it "just right" according to the core doctrine does more harm than good. Form follows content: better a good goal that is badly verbalized than a bad goal wrapped in perfect words.
In summary, the OKR methodology must be seen clearly with its advantages and disadvantages. Compare it to any standards of project management – a perfectly constructed project manual will still not guarantee a perfect project outcome. Therefore, add a dose of the pragmatism that has made the company prosper, and OKRs really will help to focus on your organization's holy grail.
Looking to get started with OKRs? Try Gtmhub FREE for 7 days!